06/28/2012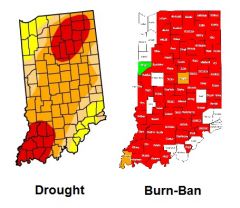 Currently major parts of the USA are under severe drought conditions. Record high temperatures combined with record low rain-fall create an extreme fire hazard. Colorado is burning out of control, and almost all counties in Indiana have issued burn-bans. That means you can't make a fire anywhere, and you certainly cannot light your fireworks.
Many cities have canceled or postponed their fireworks displays that were planned for celebrations of the 4th of July this year. While I realize this is a necessary precaution, I still hope that IPFW's fireworks event will take place - because this is the first time I'd be able to enjoy it as a US-citizen.
06/10/2012
Sometimes you just have to go with the flow and have fun! I know, the "Chicken Dance" is not a German tradition, stomping grapes is borderline, and dachshunds are not called "Wiener" anywhere in Germany.
The spelling error on the souvenir hat pretty much sums it all up for me.
Yes, we had fun; and we'll do it all over again next year!