02/17/2012
It's been 6 years, 8 months, and two weeks from the day we filed the first piece of paperwork, a form I-130 petitioning for my immigrant visa, until today when I was sworn in as a new US citizen.
Everybody is an alien most everywhere in the world, but being an alien in the country where you happen to live is a challenge. There is, of course, the language - which you can learn - but more importantly there are the laws - which you have no control over.
Some countries go easy on their immigrants, some others are very strict. The USA is somewhere in between the two extremes, leaning a little to the 'strict' side. There were two things that I personally found intimidating: the process of being admitted as a resident, which is almost impossible to accomplish for 'average' people - and the process of coming home from a vacation abroad, where they take your fingerprints every time.
It's all over now, and I will be allowed to participate in this year's presidential election!
02/12/2012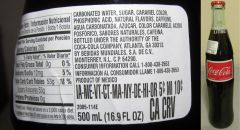 If you are concerned about your health and watch what you eat or drink, pop is off limits. Since today's selection of softdrinks doesn't even taste as good as it did when I was young, I find it easy to resist.
I don't like the artificial, chemical, gross aftertaste of Coke and similar beverages. The only reason why I would sometimes buy Coke is for medicinal purposes. The acid in it helps an occasional upset stomach, so you want to have some on hand just in case.
Today we found this rare treasure in the international section of our grocery store: Coke made in Mexico, without corn syrup! This stuff comes in half liter glass (!) bottles with a pry-off cap, and it says "sugar" on the label. One bottle costs $1.69 and it's worth every penny of that. I might have to fake an upset stomach here pretty soon.