01/22/2012
In Germany it's the law. If you're caught driving in winter conditions without snow tires, you'll be fined. But even before it became law, everybody I knew had two sets of wheels for their cars. One with summer tires and one with winter tires mounted. Twice a year everybody would switch wheels on their cars.
Winters in Indiana are just as bad, or maybe even worse, as the ones I saw in Germany, but hardly anybody puts snow tires on in winter.
All-season radials and maybe 4-wheel drive seems to be the way to go.
With our van, which is quite heavy, that idea has been working OK so far, even without the 4-wheel drive. But the Elantra, engineered for fuel efficiency and light-weight, turned out to be almost impossible to handle on just a little bit of snow.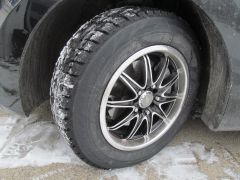 The solution to this problem is easy: get some stylish new rims with excellent snow tires mounted, and voilá! - driving is fun again.
01/09/2012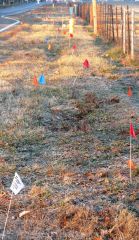 One of my earliest 'culture shock' experiences in the US was when I first noticed locate flags alongside a road. I had no idea, what they were for and who put them there. My guess was they were remnants of a child's birthday party involving some kind of treasure hunt.
When I learned that an entire industry of utility locators is busy year round marking the location of underground cables and pipes with these little flags every time somebody wants to dig more than a foot deep, I found it hard to believe.

I admit I never paid much attention to the markers that are permanently installed all over Germany to tell you exactly where cables and pipes run underground, which is probably the reason why I didn't notice their absence in my new home town immediately.
01/06/2012
Most years I don't have a specific resolution to change anything - because I like everything the way it is. This year is different. When you have to hold your breath to be able to zip up your pants, it's time to lose some weight.
I don't know if it is due to my age, or the country I live in, but lately I'm holding my breath way too often.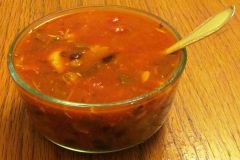 So here is my official New Year's Resolution for 2012:
By April 10th I will weigh 10 lbs. less than on January 1st. The diet I will use to reach this goal has to be very easy to follow.
I have absolutely no extra time for complicated shopping lists and special designer recipes.
My plan is simple. Breakfast will stay as it is with yoghurt, fruit, Müsli, and coffee. Lunch will be a bowl of this awesome soup made with lean meat and lots of vegetables. Supper will be soup again, or maybe a whey protein shake. I will keep up my current exercise routine and cut down drastically on snacks between meals.
01/01/2012
To some New Year's Eve may just be a date on the calendar. The people of Samoa didn't consider this date anything special, so they just skipped it to join Australia's time zone. To me, however, the last day of a year has magical importance. What I do on that date, and how I spend the time around midnight, determines how my next year will go. Or maybe it doesn't, but I enjoy entertaining the thought that it might.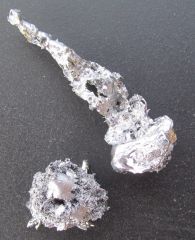 My New Year's Eve traditions include eating herring salad, drinking champagne at midnight, lighting fire crackers, watching "Dinner for One", melting lead, and (for the first time this year) wearing something red and something gold.
Most of the times I understand what my lead objects are trying to tell me, but this year I haven't a clue? Not to worry though, I still have all year to get that figured out.
What do you think these are?