10/30/2011
As the year winds down towards winter there are more opportunities to take advantage of the natural ambience and be creative, yet traditional.
Even Halloween, with its over-commercialized candy madness, offers a more spiritual side for us old-fashioned people.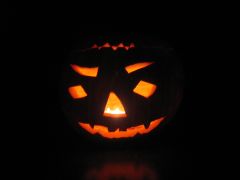 The tradition of carving a lantern started in the British Isles around the 1800s. However, it was traditionally sliced out of a turnip.
They were created
on All Hallows' Eve and left on the door step to ward off evil spirits.
An offering or, as we now know it, a "treat", would also be commonly left to placate roaming spirits - otherwise they might 'fiddle' with property or livestock (play a "trick").
Once the tradition moved to the US, it was adapted to the carving of a pumpkin as these vegetables were more readily available, bigger and easier to carve.
10/06/2011
Today is the 'official' date to celebrate German-American Day, a little known Holiday that commemorates the foundation of Germantown, PA, on 10/6/1683. I welcome the opportunity to rethink my own German-American identity, especially now - right after returning to the USA from a much needed vacation in Germany.
When you move from one continent to another you expect 'culture shock'. Everything is new, different, better or worse. You're struggling to adjust and learn while trying to keep your personality and memories. After a while you may begin to think that integration was successful. Surprises occur less frequently. Until you travel to the old world and realize the treasures you lost in exchange for the riches you gained.
I define victory as the moment you succeed in combining the best of both worlds for yourself, and becoming a true German-American, or whatever your personal two worlds are called.