02/22/2011
Last weekend we received another recall notice from Ford Motor Company. The third of its kind for our old Windstar van. This time it was for corrosion issues with the front axle that could cause the wheels to just break off the car.
On a vehicle that was built in 2000 I would expect anything to fail at any time for any reason. If that happened to me, I would just consider it bad luck and decide whether I want to pay for the repairs, or ditch the old junker. Not so in the USA, where companies can loose millions of dollars in a lawsuit because one of their products failed and somebody got hurt. Which is why manufacturers recall thousands of cars as soon as they learn about a potential problem.
On the previous two occasions our van passed the inspection, but this time it didn't. The repair shop doesn't even have the parts in yet, so while we are waiting, we get a free rental car. I'd hate to be Ford right now! Can you imagine thousands of customers, all of them getting free loaners with full coverage insurance for weeks or months, and free major repairs on their own cars that are over ten years old?
Anyways, meet our (temporary) new ride: 2011 Toyota RAV4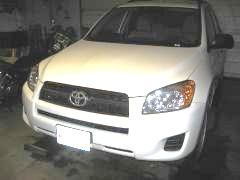 02/09/2011
When I came into Zollner in the morning I noticed some kind of electrical fire smell. I didn't think much of it, because we have several labs in the basement were students do all kinds of experiments and we've had some peculiar smells coming from down there before.
I assumed there was a chemistry class going on.

Then I saw colleagues from the buildings and grounds department standing in the hallway, discussing something, and just assumed they had been notified about the smell and were going to fix it. When the fire alarm went off half an hour later, I assumed that my colleagues had resolved the issue and were now testing the alarm to make sure everything worked.

Boy, was I wrong!
This was a real fire alarm, triggered by the batteries in our UPS exploding in the basement, pouring acid all over the cabinet. The fire department came to our rescue and we resumed work half an hour later.
Never assume!
02/02/2011
If you have to go places, a huge snow storm like this one may be a problem. If you can just stay home, like me, it's fun. I didn't have to go to work today. So I slept in, had a big healthy breakfast, then got the snow-blower out and cleaned our driveway. Many neighbors were doing the same thing. Later on I'll have time to catch up on my homework for the current class.