10/26/2010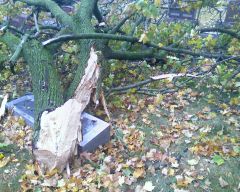 Northern Indiana was hit by severe weather, heavy rainfall, and nine tornados today around 11:00 a.m. The storm system brought high winds that toppled trees and power lines and damaged many buildings. We didn't see much damage in Fort Wayne, but towards the West people's houses were torn apart.
The storm lasted for only about half an hour, so I could still go for my lunch-time walk around the cemetery. A huge limb had broken off one of the big trees there and lay sprawling across a dozen graves and part of my path.
10/15/2010
Today after work I went to pick up our van from the body shop. I was surprised that they had actually kept their promise to get it done within the week. From my experience with two different accidents I can now seriously recommend having full coverage car insurance. Dealing with just your own insurer for the entire process is a lot less stress and well worth paying a bit more for.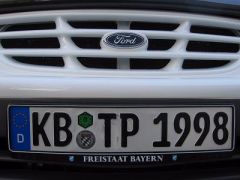 Now that I mounted my slightly damaged custom German license plate with the 'real' fake seals on the shiny new front bumper again you wouldn't believe this car is over ten years old.
10/10/2010
This is the season for outdoor activities. It's nice and warm, not unbearably hot anymore. The mosquitoes are pretty much gone. The backyard provides plenty of dry leaves and sticks for a small fire. Time to have smores!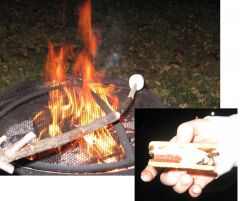 Put a marshmellow on a stick and hold it over the fire. Melt it, but don't burn it. Then lay a bar of milk chocolate on a graham cracker and hold that under your soft marshmellow. Use a second graham cracker to pull the melting marshmellow off the stick. Now squoosh the gooey mess flat between your crackers and enjoy.