07/21/2010
Ever since email became mainstream crooks and thieves used it to try and phish personal details and passwords off unsuspecting honest people. These fraudulent emails are easy to recognize: they tell you some very exiting story about lottery winnings, or a huge amount of money somewhere, or it looks like a job offer - and then they ask for sensitive information, like your full name, birth date, address, home phone number, account number, SSN, ........ if you actually fall for that, and give up your data, you're toast!
Over the years people got wise, though. I don't think anybody in their right mind replies to scam emails anymore. So the criminals had to come up with different ideas. Lately they've been doing it with mobile phones.
So, just in case you are young/innocent enough to still believe anything somebody will tell you, beware! Here's what happenend to me twice in the past few days:
You receive a call on your cell phone, the caller id shows just a number (sometimes it doesn't even look like a phone number). When you answer, a female computerized voice comes on saying something like 'Hello, this is ........... (insert the name of your bank here). Your account (or credit card, or debit card) has been temporarily suspended. To reactivate, please press 1 now to be transferred directly to our security department.'
If you are curious enough to proceed to press 1, you will really be transferred. Just not to any bank's security department! The person will ask for many very personal details, and then abuse that information immediately to drain your bank account, or even overdraw it, if you were naive enough to opt-in for the 'overdraft protection' that your bank has been trying hard to push onto you recently (so they can charge you $25 per incident).
07/18/2010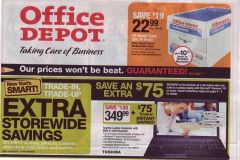 The Sunday newspaper is always stuffed with ads and special deals and coupons. Some of these inserts are really good deals, some are just not interesting, and once in a while you'll find something that makes you wonder. Like this 'deal' Office Depot currently wants us to take. It makes me wonder, how many people will fall for it.

They offer to give you $75 for your 'old' laptop, when you trade it in for a new one. Read the fine print really carefully though, and then better sell your 'old' laptop on ebay for way more than those $75. I'd say you'll get at least $150 for any machine that would fit Office Depot's requirements, which they state as follows:
Laptop must boot up and be in working condition, have Microsoft XP or newer, operating system as specified by the operating system/COA sticker, have a working battery and complete power cord, and must not have cracks or missing/broken parts.

If I had an 'old' laptop in that good of a shape, why would I want to trade that in? And if I did, why would I do so for a rinky-dink $75 ??
07/04/2010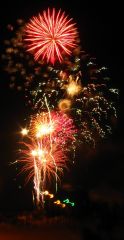 4th of July wouldn't be right without watching some fireworks display. This year we watched IPFW's show from the roof of one of their parking garages. That is definitely the very best spot to be at! There is nothing around to obstruct your view. It feels like the sky is raining stars onto you.
07/03/2010
Our Independence Day weekend trip to the Indiana Dunes State Park is becoming a family tradition. Probably because it has all the ingredients of a really good time. It's close to home, just about two and a half hours drive.
The Comfort Inn in Portage is pet friendly and not too expensive. Central Beach is close by, also pet friendly, and long enough to accomodate even a 4th of July crowd. The Lighthouse Place outlet mall in Michigan City is another good reason to load up the van and go there.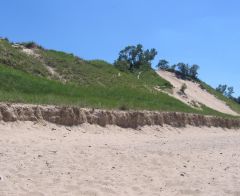 07/02/2010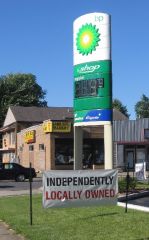 With millions of barrels of oil continuing to spill into the Gulf of Mexico people are getting angry at the greedy oil company that is to blame for this environmental catastrophe. What can us *little people* do to show BP we're angry? Many believe a boykott is the way to go.
But then, whom are you hurting when you stop buying gas at BP stations? This gas station on Anthony Blvd. claims to be 'independent' from BP. So could they just sell some other company's gas? Like Shell, or whoever? Even if that was possible, I don't think it would make a difference.