01/29/2010
From the 'work' point of view this week was pretty much lost. Two unrelated incidents resulted in greatly reduced productivity for me personally, and for the team as a whole: on Monday my computer's harddrive crashed, and an important colleague didn't show up for work.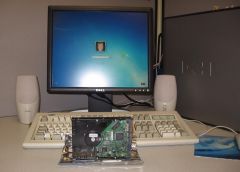 The way those two incidents unfolded, and were dealt with, over the course of five work days resulted in valuable gain, though.
I learned a lot about Windows 7, and I learned a lot about people.
When our comfortable routine gets disrupted by unexpected events, we forget about the carefully orchestrated masquerade that we keep up to protect our true self. People's unkempt faces show, and you recognize the leaders, the followers, the bystanders, and the saboteurs.
Of course, all that matters is the end result: I now have Windows 7 running on my computer, with most of my tools working again, and our colleague will hopefully be back to work on Monday.
01/07/2010
Once a week we have a team meeting at work. Usually it takes about an hour. Everybody briefly reports about what they are currently working on, so that we all know what's going on. This week the meeting took well over 90 minutes, though. I admit I was getting a little bored, because my part was short and done early. So, while I was listening to my colleagues talk, I drew a face on the back of the plate that had been housing our gold fish crackers.
One colleague said my drawing demonstrated *some serious talent*, which is why I signed it and gave it to him to keep.
You never know, maybe this face on a plate will be worth a lot of money when I become famous.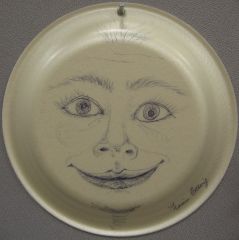 01/01/2010
New Year's Eve is another chance to party with friends, and to carry on the family traditions. Like herring salad, and fireworks, and champagne at midnight, and watching 'Dinner for One' on TV, and melting lead to predict the future.

This year one of my pieces is clearly the mask of Zorro.
The other came in two parts, neither of which I recognize as anything in particular.
Now the question is:
what does the mask of Zorro mean for my new year?
Am I going to become the hero of impoverished Mexicans?
Or is this just a symbol for all my hidden talents, which I can use for the betterment of people's lives - once I get on my horse, grab my sword and go ride out into the darkness?