12/17/2009
There are certain times of the year when melancholy sets in at the reminiscence of traditions I cherished back in the old world. There's all the little things I used to take for granted; those things that you don't even think about when they are easily available, and that become ridiculously important when they're taken away.
Like Glühwein and Rumkugeln in Winter.
Last year I found a decent recipe for Glühwein (mulled warm red wine), and World Market carried Rumkugeln (rum truffles), imported from Germany. This year we don't have a World Market in Fort Wayne anymore. So I had a serious problem: no Rumkugeln!
Well, thanks to my friend google, I now know how to make the best rum truffles at home. With real 80% Austrian Stroh rum. Life is good!
12/08/2009
Indiana Tech is having an office Holiday Decoration Contest again. You can win $25, $50, or $75 if your office is chosen among the three best decorations. Last year nobody in IT did anything. Geeks.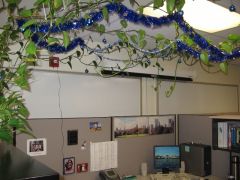 This year I came prepared. I admit the philodendron above my cube gives me an unfair advantage; but then, I worked years for that too. What do you think? Do I have a chance? Even if not, it was fun to hang up blue garland, LED lights, and shiny little blue balls.
12/01/2009
One of the Christmas traditions in Germany that hasn't really made it to the USA (yet) is the advent calendar. You're supposed to start opening little doors on December 1st, opening one door every day, until the 24th - which is the main day of celebrations, and exchange of presents, in Germany.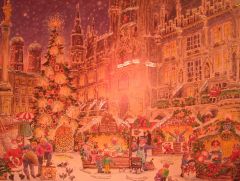 Most advent calendars I've seen have chocolate or candy behind the doors, which is not a good idea if you're trying to keep your weight under control. So this year I opted for one that reveals some funny little pictures behind the doors, free of calories.
I was so thrilled to find a scene from Munich's Christkind'l-Markt at Marienplatz that I didn't even blink at the price of this piece of cardboard, which would normally cost around 2.99 € in Germany:
$11 after shipping.