10/30/2009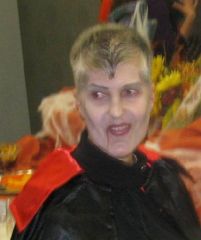 This year Halloween was on a Saturday, so no reason to spend an entire day in the office dressed up with a scary costume.
I got lucky though!
The invitation to Indiana Tech's 2010 Fund Drive kick-off party said 'feel free to come dressed in your favorite costume'. So I dressed in plain black for the day, and just threw on a cape and painted my face in time for the party.
10/20/2009
Fall is well under way, Halloween is quickly approaching. Some people like to decorate their houses with traditional arrangements, like straw and real pumpkins, while others turn to contemporary ornaments, like this one on my way to work.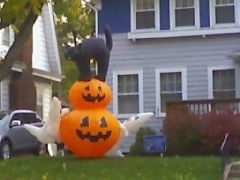 This small two-story house on North Anthony Boulevard has a twelve feet high blow-up object sitting in the front yard. It is a tasteful (?) work of art, featuring two pumpkins stacked on top of each other, a black cat balancing above, and two friendly ghosts attached sideways.
Going past that always puts a smile on my face. I wonder what kind of people live in the house.
10/17/2009
It's been over 22 years since I last owned a motorcycle. I enjoyed riding very much, but my life just didn't have any room for a bike in it for a long time. Now things have changed to my favor, and I'll be riding again. Last week we drove to Hayden Honda in Kendallville and bought a blue-silver Honda Shadow Aero.
Today we picked her up.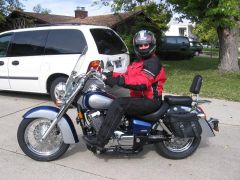 I was a little nervous at first, because it's been a long time since I last rode. After the first few miles it felt like I'd been riding every day. The weather was favorable too. No rain for the first time in a week, and around 45°F to go with it.