06/20/2009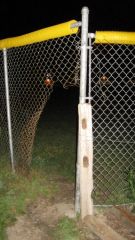 Summer is here, festivals all over the place. Like Churubusco's Turtle Days.
OK - the story behind this one is highly unlikely (giant monster snapper turtle sighted in a pond??), but who cares.
Here's how it works:
You park by the school, then you slip through this door in the fence.
Then you have an overpriced gyros sandwich - excellent taste, but no tools supplied with it, so it's messy.
You look at some of the rides, and wonder if they would pass a TÜV inspection.
You find it odd, that there is no beer tent anywhere near the place.
At last you see truly awesome fireworks, after you found out where they were having them, wandering around in the dark, guessing the location by watching other people congregate somewhere.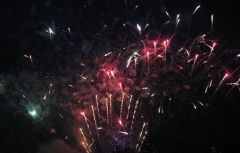 06/15/2009
....... if you can't fly yet. Or else you might end up stuck in a dangerous place, like this little robin in our front yard.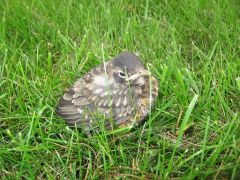 06/10/2009
OK, I admit, I'm spoiled. After living in Munich, Germany, the home of the world's only real Oktoberfest, for roughly half a century, I am probably unable to appreciate the efforts made elsewhere.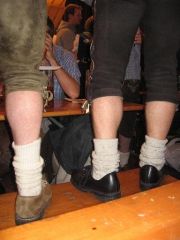 Like in Fort Wayne, with Germanfest under way.
I'm undecided whether to laugh or cry, when I see 0.33l portions of beer being served in plastic cups and people performing a city-wide Chicken Dance, which they believe to be a German tradition.
Today, watching Indiana's Newscenter on channel 21 in the morning, it was definitely time to laugh! Ryan Elijah announced today's Germanfest highlight, the tapping of the first keg at the festival tent, and Mary Collins commented on all the good stuff we'd be seeing.
Like people wearing *Lederhasen, or what do you call it?*.
I realize this isn't funny for those of you, who don't speak German. Sorry about that.