05/23/2009
We went camping with Sarah and Dan to the Pokagon State Park. Camping can be fun, if you have a big tent, good air mattresses, a grill and a stove, lots of bug spray, electricity, a screen tent to keep mosquitoes out while you're eating, and enough food and beer.
While we were sitting around the camp fire, I looked down and saw something move around between last year's leaves and brown dirt. I thought, it was a frog. But Tom said if it's dry and brown, it is a toad.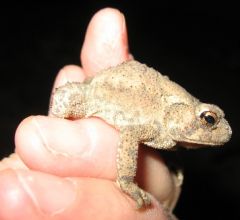 I always associated toad with something fat and ugly, but this little guy was really cute. If he hadn't moved, I would have never seen him.
05/21/2009
Robert "Bobby" Munger, a student at Indiana Tech, parked his senior project outside Zollner on campus today. He took an old VW Beetle and turned it into a fully street-legal, 100% plug-in, electric car.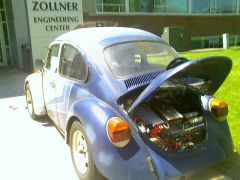 It cost him about $8,000 for the parts, countless hours of work, and some help from his buddies.
Right now he says the bug will run 20 miles on a charge; when it's fully broke in Bobby hopes to be getting 30 miles out of it. Charging time is around 3 to 6 hours, depending on how far the eight batteries are down.
I think this project shows the true spirit of America, and find it kind of sad that the school won't let him plug it in on campus.
05/15/2009
Yesterday my paperwork for the upcoming elections in Europe arrived in the mail. I can now pick one out of 31 parties, with up to 10 candidates each, to represent Germany in the European Union.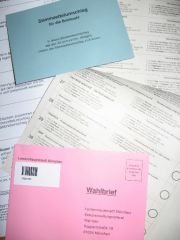 I know enough about the first ten parties on that list, to be able to pick the one that may stand for what I believe to be most important. But I was tempted to vote for the Pirates, because of my family history, even though I have no clue, what their mission would be for the EU Parliament.
05/02/2009
Tom and I drove to Indianapolis today, with a long shopping list for Costco. We also wanted to check out the World Market in Carmel, since the one in Fort Wayne was closed a while ago and we are running out of licorice.
And then there is Claus' German Sausages & Meats, which I had found on Google some time ago. I wanted to have a look at that store, maybe get some Fleischkäs' or Leberwurst. They have the typical selection that you would expect in any German butchery, but they also have something that we had given up on trying to find here: Augustiner beer!
I thought Augustiner Bräu doesn't export, because they don't produce that much. Now I'll have to go talk to the Belmont Beverage store close to home and tell them to make my favorite beer available.