04/27/2009
Looking back less than a year ago, when I started to learn how to yodel, I've really learned a lot. Now my problem is not to get those practice yodels figured out, the problem is to find new practice yodels that I like. This one sounds perfect on a sunny day!
04/16/2009
Tonight at 7:05 p.m. the TinCaps will play against the Dayton Dragons. This is the official opening game for the new Parkview Field in downtown Fort Wayne. Everybody is getting very excited about it; one of Indiana Tech's students even had his/her VW Beetle decorated like a baseball.

I took a picture of the car with my cell phone's camera and submitted that to channel 21's YouNews website. They must have liked my photo, because they ran it last night, and today in the morning, as their 'picture of the day' during the news cast.
04/10/2009
The yodel that I currently practice on my way to work is called 'Enrosadira'. I downloaded it from Amazon because it sounds great, and I wondered what the title meant. Now that I can do the yodel good enough to publish it on YouTube, I found some time to research the meaning.
Enrosadira means 'to turn rose-coloured' in the language of the Ladins. You can watch the pale, rocky walls of the Dolomites change colours at sunset, on days with a special atmosphere. This phenomenon is caused by the chemical composition of calcium carbonate and magnesium, which gives the mountains a rosy colour that gradually turns to purple.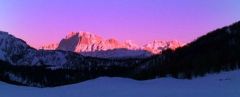 04/04/2009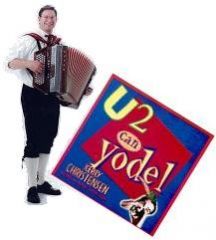 I taught myself yodeling with Kerry Christensen's CD *U2 can yodel*. When I had worked my way all through the lessons on the CD, I posted a video response with my performance of the last, hardest, yodel to Kerry's YouTube info-mercial.
I hadn't expected him to take note of my yodeling attempts, much less contact me about anything.
But that's exactly what he did! Yesterday he wrote me an email, saying that he also saw my interpretation of Melanie Oesch's Kuku-Jodler and would like to talk to me about that.
Today Kerry Christensen called me on the phone, to chat about yodeling in general and my approach to learning *harder* yodels, like the Kuku-Jodler. I told him that I used 'Audacity' to modify the sound files, that I sing along with for practice. I slow them down, so that I can get them figured out. I also transpose the pitch to match my voice range.
Kerry is a really nice guy! He said I'm doing a good job at yodeling. We'll stay in touch, I hope.
04/02/2009
I enjoy all kinds of *physical* experiences; I like to see, touch, smell, taste and feel stuff - especially old stuff. When I mentioned that to my colleagues, two volunteered to show me some of the cool stuff on campus.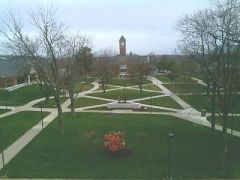 Yesterday I got a tour of Seitz's basement. Today a trip onto the roof of Zollner was *needed*, to find a good place to set up the new campus web-cam.
Indiana Tech moved to its present location around the time when I was born. Most of the buildings you see on campus today were built afterwards, but Seitz Center, from the 1800s, is still pretty much in the original shape. It has a really scary basement!