03/28/2009
I hadn't gone out to see a movie for quite some time. So today I went to watch *Knowing* - not knowing that it wasn't that great of a show. The idea is kind of interesting, but then the plot isn't very developed. Lot's of money wasted on cool special effects, not enough attention to logic and detail. The ending really sucks!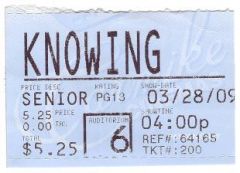 I got lucky on the ticket price though, which made up for the mediocre entertainment. I went for the show at 4:00 p.m., expecting to pay $6.75. When the girl at the box office asked for $5.25 I briefly hesitated - but didn't say anything.
A look at the ticket revealed the reason: I got the senior discount!
I must have looked really old today.
03/23/2009
Good thing I listened to the news before driving to work today. If I hadn't done that, I would have probably been late. Some time Sunday evening a huge sinkhole had opened up on North Anthony Boulevard, just south of the bridge over the Maumee, right before the railroad crossing. The road will most likely be closed for a week or two, until that twenty feet deep and ten feet wide hole is fixed.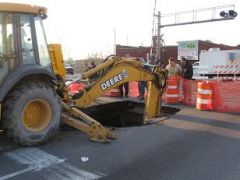 A section of Fort Wayne's over 125 years old brick tunnel sewer system must have caved in. Nobody was seriously hurt and traffic has been successfully rerouted.
03/20/2009
I had seen the typical US workplace environment in TV-shows and movies. *Office Space* comes to mind, with rows of little, dead, grey cubicles where frustrated workers go about their dreadful jobs. When I first entered my cube at Indiana Tech, it looked just like that: grey and dead.
I decided to bring some life to my cube and bought a small philodendron. As soon as the plant's branches grew long enough I strung them up along the ceiling panels above my desk. By now the area over my head looks a bit like a jungle, and it's not done growing yet.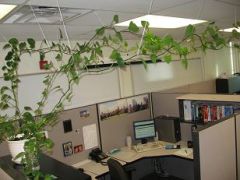 03/11/2009
I had been practicing for about ten months to be able to perform Melanie Oesch's Kuku-Jodel at our annual talent show. Today was the day! I must admit I was a little nervous at first. After all, I had been doing this yodel by myself alone in my car only.
Standing there in the gym, bright lights shining right into my face, a crowd of students watching, feels a bit different. But about 20 seconds into my performance I loosened up, and people seemed to enjoy it. Or maybe that was just because Shelly K., the commentator, told everybody at the beginning: *no booh-ing, folks*.
You'll be my judge now.
BTW (02/02/2012): I took the original video of this performance off of YouTube because it was just too embarassing ;) I performed again a year later with this yodel - still a lot of practice needed, but I'm getting more confident.