12/31/2008
New Year's Eve means party time! We were invited to our friends' house for a potluck. I made herring salad and German pretzels. People also brought fire-crackers and several bottles of champagne. Everybody watched *Dinner for One* shortly before midnight, and after that we lit our fireworks.
I had finally found the materials needed for a German New Year's tradition from an online source, directly imported from Germany. You can't buy it in stores here, because it is considered a hazardous chemical. So this year, for the first time since we moved, we were able to tell our fortune from melted lead.
You put a small chunk of lead (actually 87% lead and 13% tin) on a spoon and hold that over a candle until it melts. Then you dump the liquid metal into a bowl with cold water. Look at the random shape you get, try to associate what this might look like to you, and interpret the meaning for your future.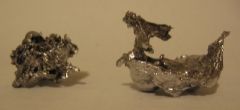 One of my two pieces of lead looks like a JetSki or a motorcycle to me, the other one is more like a bug on a fuzz-ball.
12/21/2008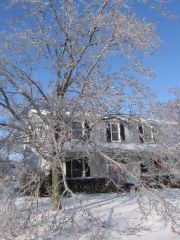 After working for 25 hours straight on Friday, Tom was called in again today at 5:00 a.m. The wind had picked up, causing more branches to break off trees and tear down power lines. The temperature today is at 2°F, which feels like -15°F with the wind-chill.
Even though it is brutally cold outside, I just had to go take pictures. The frozen landscape is of breathtaking beauty! Trees and bushes look like they are made out of glass. You can hear the crackling sounds of breaking ice as the wind moves the heavily coated branches.
12/19/2008
We had been warned, it was all over the news. Late Thursday night we would be hit by a winter ice storm with high winds and freezing rain. The forecast was accurate. Today we woke up to a beautiful disaster. Big branches, coated with thick ice, had broken off old trees, tearing down power lines and telephone posts as they fell onto the glazed roads.
All schools were closed. Indiana Tech sent a message to all employees - report to work at noon. Over 100,000 people were out of power, more than half of them still are. I had to use the rubber covered handle of a big hammer to knock half an inch of clear ice off the van's door, just to be able to get into the car and drive to work.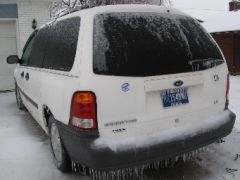 12/06/2008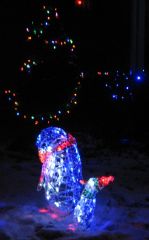 We add a little bit of something to our Christmas lighting every year. This time we bought a pair of penguines and a string of blue lights. Snow was falling almost all day long today, which was the perfect weather to decorate our house.
We use only LED lights, so the energy consumption is negligible. The penguines added 4 Watts for a total of 16 Watts of Christmas decoration.