10/31/2008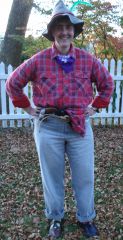 Since there is no Carnival in Fort Wayne, I have to take advantage of Halloween for dressing up. This year I picked *Hotzenplotz* for my character. Thick eyebrows, a black moustache, one of Tom's old winter flannel shirts with a purple bandana around my neck, two different socks, two different shoes, a rope for my belt, a toy pistol, topped with an old felt hat.
Only very few of my colleagues took permission from HR, to break the dress-code, that serious. Later on at night we had quite a few kids come by our house for candy. But there's still enough of it left for me to take to work next week.
10/23/2008
I need 123 college credits for my degree. At a rate of one class per week, five weeks per class, taking eight courses per year and earning three credits per course, I figured it would take me about five years. So every opportunity to shorten that time is more than welcome.
One very quick way to earn credits is thru a CLEP exam. I like that idea a lot! Why not prove that you acquired valuable knowledge about something somewhere outside a classroom?
Which is why today I took a CLEP test for a subject I master without special preparation: German. I scored a perfect 80 points, the maximum possible, which is worth 12 credits.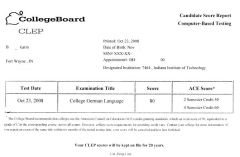 10/11/2008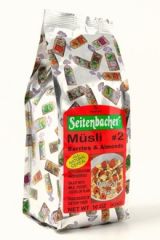 Saturday is usually the day that I go to get groceries at Meijer. I try to avoid preprocessed foods with long ingredient lists, so most of the times I don't even go thru the cereal aisle.
Today I had a coupon for $1 off any cereal - and therefore had to stroll along the endless shelves of cornflakes loaded with sugar. At the very end of that aisle they have a small section with healthier choices, and there I spotted something new!
Meijer now carries several different kinds of Seitenbacher Müsli, imported from Germany! The price isn't beyond reach either, even though it's more expensive than in Germany, of course. Now I can have some more variety for my breakfast. I'm not limited to the only acceptable kind of cereal I found years ago (Bob's Red Mill Müsli) anymore.
Yum!