09/26/2008
OK - 3-ply toilet paper wasn't the main reason why we travelled to Germany again this year. There is a lot of other things to enjoy. Like my daughter's nineteenth birthday, or Munich's world famous Oktoberfest, or my dad's little old house in Austria, or seeing my family again.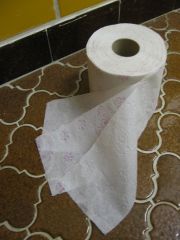 But 3-ply toilet paper is definitely a product I really miss in the USA. For the first half century of my life I never wasted a thought on something as basic as tissue. Until the day I realized, that US tissue is very different. Even the highest quality Charmin or Cottonelle doesn't compare to some good old Hakle dreilagig.
09/13/2008
Exactly a week from now, on Saturday September 20th of 2008, at 12:00 noon in the Schottenhamel beer tent, Munich's mayor Christian Ude will tap the first barrel, speak the magic words *O'zapft is* - and thus officially start the 175th edition of *Wies'n*. The world's biggest party, the only *real* original Oktoberfest, will bring 16 days of fun to München. Of course I can't miss that.
The festival site isn't quite set up yet, but it will be - trust me.