08/29/2008
The motorcycle license I had achieved in Germany back in 1981 is still valid all over Europe. But it is worth nothing in Indiana. Ever since Tom bought his motorcycle, I wanted my *M* endorsement back.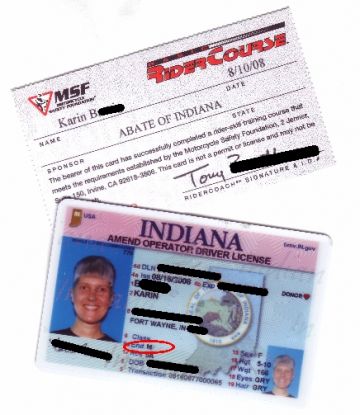 Being a resident alien I had to go thru a few extra hoops to reach that goal. First pass the written test to get the learner permit. US citizens receive the permit instantly. Aliens have their paperwork, including copies of passport and green card, processed in Indianapolis. Verification of your status takes about two weeks.
The next step is a weekend on a parking lot. That's called *motorcycle safety training*. Good thing, for somebody who has never rode a motorcycle. A little bit boring for everybody else.
After you pass the riding exam at the end of that weekend, you can go sit and wait around at your local BMV again. US citizens walk home with their new license on that day. Aliens like myself need to be checked out again, going thru Indianapolis again, just to make sure that you are still legal.
Today my pretty new driver license, with that extremely valuable *M* on it, arrived in the mail. Woo-Hoo!
08/27/2008
I've been practicing my yodeling in the car, on my way to and from work, for about ten weeks now. I believe there is some mayor progress! What do you think?
08/07/2008
Germany is famous for highly sophisticated products, which solve every-day problems utilizing limited resources and space. One of the most ingenious German inventions, in my opinion, is the Überraschungsei. It grants three wishes at once and has been nourishing the bodies, minds and souls of children (and adults) all around the globe since 1974.
These chocolate eggs containing a small, in most cases yellow, capsule with a tiny toy or puzzle, have been exported to the world for decades. The USA and Africa are the only places, where the combination of food (the chocolate) and non-food (the toy inside) items in one product is against the law.
Which is why it has always been hard to find Kinder Surprise Eggs in the USA, but nobody seemed to really enforce the law regarding them. I used to buy mine at a small Croatian grocery store. Recently there have been incidents in Europe where somebody abused the eggs to smuggle drugs, and elevated levels of mercury have been found in some of the plastic toys inside a few capsules.
So now authorities in the USA are really tightening security against the Ü-Ei threats. Not a single egg will make it thru customs anymore. Good thing I'll be travelling to Munich again in September, to enjoy chocolate eggs and other things.
08/02/2008
I had been out at Baer Field Speedway, by the airport, only once. Over five years ago. Tonight Tom took me there again for a few hours of plain fun.

The place hasn't changed at all. It still has this *classic* touch of run-down, worn-out, slightly off, charming atmosphere. Entire families take their big coolers with snacks and drinks, bring blankets to wrap up in when the sun sets, and sit there on pillows or these little folding chairs without legs, or even on the bare weathered wood.
The race cars look like they came straight from the junkyard.