07/26/2008
OK, I know you need to walk or run at least 30 minutes every other day to stay in shape. Especially with the kind of jobs we have, sitting behind a desk all day long. But then, sometimes it is too hot, or too cold, or too wet, or too dark, or too late.......... and I find myself getting the exercise I need only once a week, at most.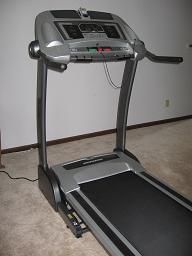 Now this is going to change! We went to Dick's sporting goods and bought a treadmill. After doing some research on the web and looking at different models in the store, we decided on a Horizon T900, which seemed to offer the best value for the price.
Getting the 360 lb. machine set up in our big, empty family room - which has been redefined to be the gymn - was a major challenge. Especially since one of the holes on the frame wasn't drilled in the right place. MADE IN CHINA - do I need to say more?
07/23/2008

Tom needed a minor surgical procedure done, which he had been putting off for several years. The specialist closest to us for that procedure is located in Peoria, IL. So we took US-24 and went on a roadtrip thru the Midwest.
-
You drive thru small towns, where time seems to be stuck at a slower pace. Along either side of the road, for as far as you can see, there is corn or soybeans, and an occasional herd of cows, or maybe a lonely little patch of wheat.
-
I noticed a significant difference in height of the corn between Indiana and Illinois. Whatever they're doing in Illinois yields about 2 feet higher corn. Or did they just plant their seeds earlier?
07/19/2008
Some Saturdays, when I do our grocery shopping, I stop by a local Cap 'n Cork and stock up on imported beer from Munich. Today I met Günther there, who is working at that liquor store a couple of days a week. I noticed a German accent, and his name tag was a give-away.
He had moved from München-Schwabing to Pennsylvania fourty years ago. There he found his wife, also a German, from Braunschweig. They now live in Fort Wayne, but he still visits his old friend Albert in München, about every three years. He said München changed a lot. The place where he lived was called *Feilitzsch-Platz* back then. It is now *Münchner Freiheit*.

07/04/2008
The 4th of July means extended weekend for me. Time to spend the day doing what I do best: Nothing! After dark we sat outside on the patio, sipping on a glass of wine, just looking up into the sky.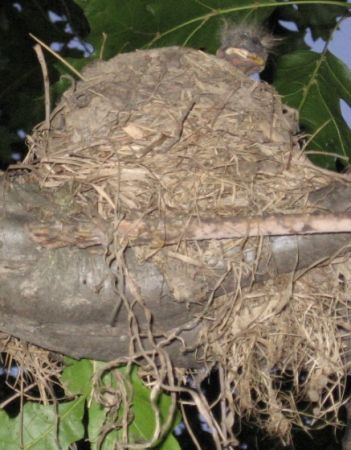 There I spotted a funny little creature looking down at me. We have a robin's nest in one of our trees, and one of the babies was curious. I had to wait for a while for an adult robin to show up and feed the little ones.