05/30/2008
Indiana Tech's new student residence hall is growing rapidly.
When I go for my lunch-break walk, I usually take a picture of it with my cell phone's camera.
Just for the fun of it, and to find out how that works, I turned my PowerPoint presentation into a video and uploaded that to YouTube.
Enjoy!
05/26/2008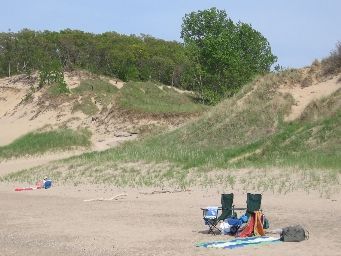 I had a four-day-weekend, thanks to Indiana Tech. Tom's work schedule allowed for two days off. So we loaded up the van with beach gear and took Armani to the pet-friendly Comfort Inn in Portage.
Perfect sunshine, few people, very cold Lake Michigan - Central Beach is one of my favorite places. There is a small bar & grill right across the street, in walking distance from the hotel, where they serve delicious buffalo wings and sandwiches.
Michigan City is not too far off our way back home, so we stopped at the Lighthouse Place outlet mall. Over 120 factory outlet stores, set up in a nice outdoor mall around an old lighthouse. Some pretty decent prices there too.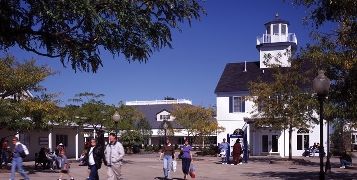 05/23/2008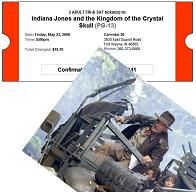 Who wants to see a 65 year old man doing the fourth sequel to an adventure movie series, the first part of which was made in 1981, over a quarter of a century ago?
Well, I do! And there were thousands of people doing the same thing. The latest Indiana Jones movie officially came to the movie theaters yesterday. I reserved tickets online and took Tom out to the Carmike today.
Kingdom of the Crystal Skull may not be the best of the four Indiana Jones movies, but I still had lots of fun watching it. What I wonder now is - will Harrison Ford wait another twenty years before he stars in Indiana Jones 5 ? Even if he does, I'll go watch that too - if I'm still alive then.
05/11/2008
Tom's family is a lot bigger than mine, with six mothers (two of them grand-mothers and one great-grand-mother) living in and around Fort Wayne. Becky has the biggest house, so she hosted the family's Mother's Day brunch again.
We enjoyed delicious food, exchanged presents and flowers - and planned our next family get-together for Father's Day. My contribution to the buffet was homemade German bread and Bavarian cheese spread.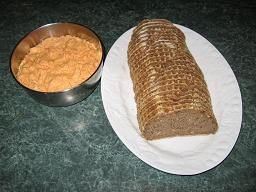 05/04/2008
Germans in general aren't as actively practicing religion, as people in the Midwest. But Catholic and Lutheran Holidays are strictly observed. This year Whitsunday (the first day of Catholic Pentecost in Germany) would be on the same day as Mother's Day (which is always the second Sunday in May).
Since Catholic Holidays were scheduled long before Mother's Day was even invented, whenever Pentecost falls on the second Sunday in May, Mother's Day is celebrated on the first Sunday in May - at least in Germany.
So I ordered a pretty bouquet of flowers, and a heart-shaped box of chocolate to go with it, for my mom.