04/27/2008
04/18/2008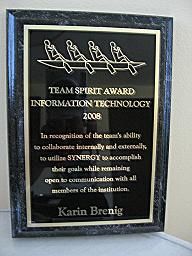 One very nice detail of American workplace culture, something I haven't seen in over 27 years of employment in Germany, is the recognition that you get for working hard.
Today Indiana Tech celebrated the annual employee awards ceremony, where individuals and teams are honored for their outstanding contributions to the success of our institution.
The surprise at the very end of this ceremony was this year's winner of our *Team Spirit Award* - the Information Technology department. We each received a nice plaque and a $100 gift certificate for Eddie Merlot's - a fancy local restaurant.
04/17/2008
Now, when you tell people here you bought a Mercedes, this is probably not what they have in mind.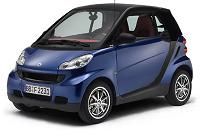 The *Smart for 2* has been available in Germany since 1998, and officially made it to the USA in November 2007.
With gas priced at about $3.50 a gallon, people are likely to smarten up more around here too.
When I went for my lunch-break walk today, I saw the first one cruising down the road in Fort Wayne.