03/29/2008
Today from 8:00 p.m. to 9:00 p.m. (in your local time zone) you are invited to participate in the annual Earth Hour event by turning off all lights that you have control over. It might not save a whole lot of energy, but it shows your personal awareness. Plus it's *cool* to sit in the dark, only candlelight on, and talk or not even talk.
03/26/2008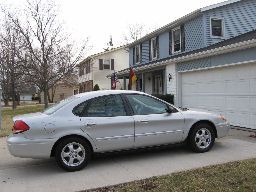 Our old 1990 Geo Tracker, with 207,000 miles on it's first engine, had been very convenient and fun to drive for two years. We bought it cheap, did only minimal maintenance on it, and got a lot of use out of it.
But the water pump was showing signs of imminent failure: random squeaks and anti-freeze on the ground underneath the car.
We had been thinking about replacing the old junker anyways - so now was the perfect time to actually go do that. Tom had seen a 2005 Ford Taurus at the same car dealership where we bought our van two years ago.
They took the Tracker for a trade and gave us a good deal on the Taurus. It cost us $7,000 - almost $2,000 below the Kelly Bluebook value. We are now the proud owners of a flexible fuel car, it runs on E85 (or regular unleaded). I like the idea of burning Indiana's corn instead of OPEC's fossil fuel.
03/23/2008
My daughter spent twelve days in Fort Wayne, visiting for the first time since her move back to Munich. The weather wasn't really cooperating, but we still followed our family tradition and went for a walk in the woods on Easter Sunday.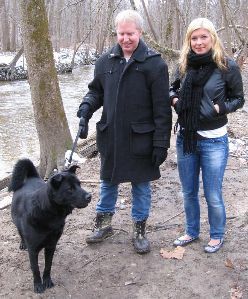 The Bicentennial Woods nature preserve, where we like to go for walks, must have been partially flooded. The place was very muddy, one of the bridges over the creek was broken and unusable.
Tom was the only one equipped with appropriate footwear for this kind of trail - so we had to make it a short walk.
03/12/2008
I've been working at Indiana Tech for over a year now - long enough that you would think I should have seen this before. But I haven't. Today a colleague entered our office saying *Batman is back*. When I asked *who is Batman?*, he took me out into the hallway.
And there he was - you can only see Batman on a sunny day, in spring, for a few hours in the afternoon. That is when the sunlight and the cardboard display in the window paint Batman's shadow onto the floor of our hallway.