01/25/2008
On my way to work in the mornings I usually listen to the *Bob & Tom show* on 92.3 'The Fort', Fort Wayne's self-proclaimed *number 1 classic rock station*. One of their frequent guests on the show is Heywood Banks, a local comedian, whom I saw on stage at the Snickerz Comedy Club once.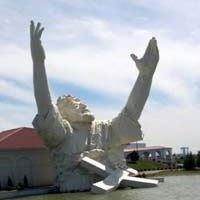 Today they played one of his songs, which is the kind that you can easily sing along with, and then keep spinning it around in your head for the rest of the day. It's called *big butter Jesus* and was inspired by a statue in Southern Ohio.
01/20/2008
Last night Tom had to work third shift, and my friend's husband had some business to tend to in Indianapolis. So she invited me to go to the Embassy Theater with her to enjoy an evening of Mozart's music, played by the Fort Wayne Philharmonic.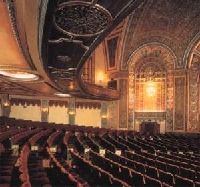 The historic (movie)theater had been badly worn, and was in imminent danger of being torn down a few years ago. I'm glad they didn't do that! Instead it was remodeled in the original style, leaving everything as close as possible to what it once looked like.
After the concert my friend and I went for a late night snack, drink and chat to Henry's - an old family owned and managed bar and restaurant on Main Street.
01/06/2008
Indiana is a *one plate* State. That means you may decorate the front of your car with anything you like. I like to show off, have something *rare*. So I ordered a custom made authentic German license plate and frame of ebay, and a set of very real looking replica seals to go with it.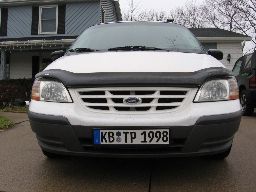 It's featuring Tom's and my initials and the year we first met online. I chose December of '08 for the month our *inspection* is due, which is displayed on the top seal.
Looks awesome!
01/03/2008
....that I went to have my teeth checked and cleaned for the first time in over two years. I was prepared for the worst, but got away with *only* 150 minutes of scaling and root planing. Two old fillings will have to be replaced in May this year, which is going to be nothing compared to today's marathon session at the periodontist's office.
When my new dentist first examined the full x-rays she had taken, and probed into the deep pockets in my gums, she told me horror stories about bone loss and root decay as the inevitable consequences of my *severe* periodontal disease. Well, this was the first time she saw my teeth - so it's understandable that she was shocked.
The specialist, she had me see, found that it wasn't all that bad - at least my condition is stable (I knew that) and with good oral hygiene after today's procedure, I should be OK for quite a few years.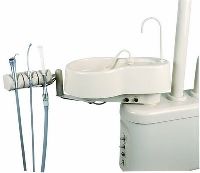 The two dental offices, I have seen in the USA so far, look very similar to the ones I'm used to from Germany. With one main significant difference: there is no cuspidor. My periodontist explained that OSHA had outlawed those in 1985 because they pose a high infection risk. Makes me wonder, how I survived all those years in Germany.
The other big difference is insurance. Coming from the government controlled public health care system in Germany to the *fend for yourself* system in the USA was an interesting experience. The attention you receive here from health care providers is excellent, but you also pay quite well for it - even with insurance.