12/31/2007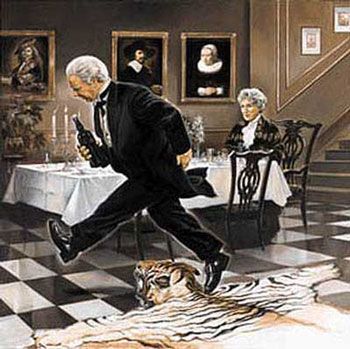 Don't ask me why....... but since 1972 on New Year's Eve you will find all of Germany (or at least the vast majority of people) watching a ten minute sketch on TV.
It is the work of the late Freddie Frinton, a British comedian who died in 1968. The funny little piece was first shown on TV in 1963 as a *filler* between shows. Obviously ads weren't that prevalent between (or even right in the middle of) TV shows back then.
A year just wouldn't end properly without watching *Dinner for One* and, thanks to the internet, no matter where I am in the world, I can still do that.
12/14/2007
OK, you might say that, after roughly 30 years in Information Technology, it's maybe kind of late for me to start pursuing my Bachelor's Degree - but this is exactly what I'm going to do.
I am going to take advantage of Indiana Tech's generous offer - free tuition for employees - and start working on my BS in Business Administration. My major is going to be Management Information Systems. I'll be going to class for the next approximately four years, one night per week.
I picked an easy one for my first class, starting in January 2008: Foundations of Quantitative Methods.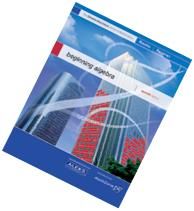 Today I went over to the bookroom and received my algebra book for that class.
I am very excited about it!
12/09/2007
All plans we had for today were cancelled due to freezing rain. No baby shower party for Nikki, no ice skating at Headwaters Park, no winter walk with our dog.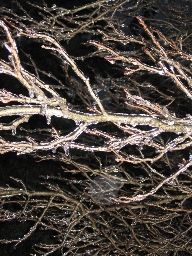 Instead we got a beautiful back yard, full of trees made out of glass. And the Christmas decoration along our front porch roof glitters and sparkles even more than usual, every single mini bulb coated with clear ice.
What an amazing show!
12/02/2007
Germany has many ancient, antique, old, modern and new traditions built around pagan, christian, political and commercial holidays. December is especially suitable for celebrations, because it's dark and cold outside. People cuddle up by the fireplace, with a cup of mulled wine and cinnamon cookies. The smell of pine or fir from an advent wreath is one of my oldest memories associated with the month of December.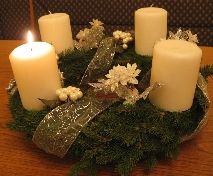 The wreaths you will find in stores here are different. You hang those up on a wall, or on your door. The advent wreath I associate with Christmas sits on a table and has four candles on it, one more of which you light on each of the four Sundays before the 24th of December.
So, if I want to keep the traditions alive, I have to make my own advent wreath. Last year I had one with red and gold decoration, this year I went with white and silver. Building it was fun! And the result looks very professional.