11/25/2007
Last year, for my 50th birthday, my daughter wrote me a beautiful letter - with a silver pen on dark red paper, and 50 little silver hearts embedded in the text.
This year she wrote a poem for me. I will not translate it for you, so those of you who don't understand German, will maybe feel left out. Sorry about that.
Mein Gedicht für Dich...
so es ist mal wieder so weit, ein Jahr ist rum und Du hast Geburtstag.
Deswegen ALLES GUTE, immer VIEL GLÜCK und ein Gedicht weil ich Dich so mag !
Rosen sind rot, Veilchen sind blau,
Mama Du bist `ne tolle Frau.
Hihi Spaß !! Das sollte es nicht gewesen sein, hier kommt der wahre Reim :)
Es gibt so viel über Dich zu sagen,
Du bist `ne Powerfrau und konntest im Leben viele Lasten tragen.
Du hast mir `ne schöne Kindheit geschenkt
und als die Pubertät einsetzte mich auf den richtigen Weg gelenkt.
Ich hab` Dir zu verdanken, daß Du mich selbstbewußt und stark erzogen hast
und, daß Du immer mit Rat und Tat an meiner Seite warst.
Bewundern tue ich, daß Du in schwierigen Situationen einen kühlen Kopf bewahrst
und Probleme systematisch lösen kannst.
An dieser Stelle muss ich sagen: Es tut mir leid,
daß ich Dich manchmal beschimpft hab` wegen einer Kleinigkeit.
Doch manche Zeiten waren nicht sonderlich leicht für mich
und ich weiß, sie waren`s auch nicht für Dich.
Jetzt im Nachhinein kann ich Vieles verstehen
und das Geschehene aus der Entfernung ansehen.
Zum Beispiel als Du Dich vom Papa geschieden hast
und zur gleichen Zeit bereits mit`m Tom zusammen warst.
Das war für mich damals schwer zu begreifen,
aber solche Erfahrungen ließen mich reifen.
Was ich von Dir gelernt hab` ist, daß jeder Mensch seine Entscheidung für sich trifft,
auch wenn sie in den Augen anderer nicht richtig ist.
Und dann die Kraft zu besitzen und den Schritt zu wagen,
seine Ziele durchzusetzen und die Folgen eventueller Fehler zu tragen.
Du hast mich zu dem gemacht was ich heute bin,
hoffentlich ist das Ergebnis auch in Deinem Sinn ;)
Meine Mama, Vorbild und Freundin....
Auch wenn wir uns "nur" am Telefon hören und auf Fotos sehen,
wirst Du für immer und ewig in meinem Herzen stehen.
Ich bin stolz, daß Du meine Mama bist,
weil jemanden wie Dich zu haben das Größte ist !!!!!!!!!!!!!!!!!!!!
Ich hab dich unendlich mal Tausend lieb, piep :))
Bussssssssiiiiiiiiiiiiiiiiiiiiiiiii
Deine Alejandra
11/05/2007
One of my colleagues found himself a new job. Good for him, a little scary for me. With the entire IT department consisting of 7 people (including our boss) just one of us leaving means at least 14% of our manpower is gone. And with only two weeks notice, which is a relatively long time for the USA (but still unbelievably short in my opinion), there was really no way I could have absorbed his six years of working experience at Indiana Tech, while he was still here.
So, until we find and hire a new database administrator, I'm going to be flying this thing by myself (mostly) with some much needed help and moral support from the remaining team. Now that I was barely starting to wrap my head around client-server application development within the .NET framework, I'll have to quickly get a grip on things like Jenzabar EX (an ERP/ERM system for higher education institutions) and administration of the MS SQL server database it resides on.
Coming to think of it, I'm going to love every bit of the process!
11/02/2007
Immigrants from Turkey brought one very delicious addition to Germany's fast food menu: Döner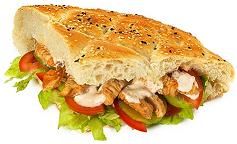 A toasted pita bread, sliced open to form a pocket, then filled with shredded lettuce, turkey or veal scraped off a big vertical rotating skewer, tomato slices, onion rings and a spicy yoghurt sauce. I must admit, I really missed that.
Turkish food hasn't made it to the Midwest yet, but Greek food is available. Now, you can't tell the Greeks (or the Turkish) that you think their food is similar, but you can still enjoy a gyros sandwich as a substitute for Döner.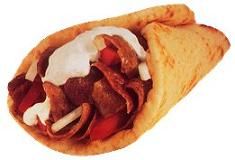 The bread is thinner, so it can't be cut, but has to be rolled around the contents. And for some reason they skipped the lettuce. The *King Gyros* restaurant, where I got my gyros sandwich for lunch today, is operated by Hispanics, like a lot of food places in Fort Wayne.
Life is good!