10/06/2011
Today is the 'official' date to celebrate German-American Day, a little known Holiday that commemorates the foundation of Germantown, PA, on 10/6/1683. I welcome the opportunity to rethink my own German-American identity, especially now - right after returning to the USA from a much needed vacation in Germany.
When you move from one continent to another you expect 'culture shock'. Everything is new, different, better or worse. You're struggling to adjust and learn while trying to keep your personality and memories. After a while you may begin to think that integration was successful. Surprises occur less frequently. Until you travel to the old world and realize the treasures you lost in exchange for the riches you gained.
I define victory as the moment you succeed in combining the best of both worlds for yourself, and becoming a true German-American, or whatever your personal two worlds are called.
07/06/2011
One of the more noticeable differences in culture between Germany and the USA is the handshake, or lack thereof. At work in Germany I would shake hands with people a lot more often. Haven't seen each other in a week? Well, that calls for a handshake! Going to not see each other for a week or longer? Time to shake hands for a farewell! Going into a meeting with colleagues from a different department? Shaking hands with everybody demonstrates good manners!
Americans shake hands less frequently. Actually, you will shake most people's hand no more than twice: once when you are introduced, and once when you say good-bye forever. While I admit that I had a hard time adjusting to this at first - feeling rejected, because people didn't want to shake hands with me - I was recently made painfully aware of the advantages of not exchanging a handshake with people. Especially if they haven't been educated on how to do this right.
I had an encounter with a knuckle cruncher, an occasion where my self-control was challenged to the point that I almost let out a high-pitched shriek of pure agony. Two days later my right hand is still very tender to the touch. Good thing I won't have to shake hands with that person again for a long time.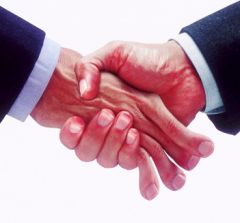 07/18/2010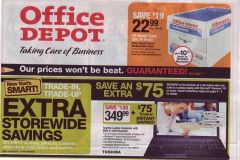 The Sunday newspaper is always stuffed with ads and special deals and coupons. Some of these inserts are really good deals, some are just not interesting, and once in a while you'll find something that makes you wonder. Like this 'deal' Office Depot currently wants us to take. It makes me wonder, how many people will fall for it.

They offer to give you $75 for your 'old' laptop, when you trade it in for a new one. Read the fine print really carefully though, and then better sell your 'old' laptop on ebay for way more than those $75. I'd say you'll get at least $150 for any machine that would fit Office Depot's requirements, which they state as follows:
Laptop must boot up and be in working condition, have Microsoft XP or newer, operating system as specified by the operating system/COA sticker, have a working battery and complete power cord, and must not have cracks or missing/broken parts.

If I had an 'old' laptop in that good of a shape, why would I want to trade that in? And if I did, why would I do so for a rinky-dink $75 ??
07/02/2010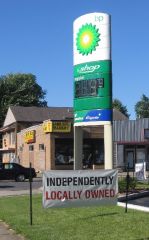 With millions of barrels of oil continuing to spill into the Gulf of Mexico people are getting angry at the greedy oil company that is to blame for this environmental catastrophe. What can us *little people* do to show BP we're angry? Many believe a boykott is the way to go.
But then, whom are you hurting when you stop buying gas at BP stations? This gas station on Anthony Blvd. claims to be 'independent' from BP. So could they just sell some other company's gas? Like Shell, or whoever? Even if that was possible, I don't think it would make a difference.
02/05/2008
OK - I can't vote for any of these people, but it's still interesting to watch. The election process for President of the USA is very different from the procedure in Germany. People don't really get to vote for a candidate, people just vote for a delegate. First the parties have to decide, who is going to be running in the finals for them.
That first step is called *primary election* or *caucas*, depending on how exactly the procedure is done. On a primary election party members simply cast a vote for whom they prefer to be their party's candidate. On a caucas party members discuss with each other about the candidates, before casting their vote for one or another person.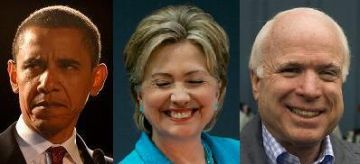 24 of the States had their primary/caucas today, on Super Tuesday. One republican candidate emerged the obvious winner - John McCain, but the democrats are still undecided. Is it going to be Hillary Clinton or Barack Obama for them?
The most interesting aspect of this is the impact, which a decision between the two Democrats might have on the likelihood of the Republican becoming President. Analysts speculate, that John McCain would most likely win the final election, if Hillary Clinton was to win the primaries for the Democrats.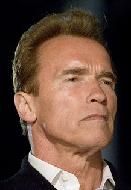 And whom would I want for President? Well, to be honest - none of the above. I'd vote for Arnold Schwarzenegger.