03/23/2009
Good thing I listened to the news before driving to work today. If I hadn't done that, I would have probably been late. Some time Sunday evening a huge sinkhole had opened up on North Anthony Boulevard, just south of the bridge over the Maumee, right before the railroad crossing. The road will most likely be closed for a week or two, until that twenty feet deep and ten feet wide hole is fixed.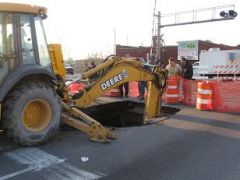 A section of Fort Wayne's over 125 years old brick tunnel sewer system must have caved in. Nobody was seriously hurt and traffic has been successfully rerouted.
02/23/2009
Today I finally made the decision to acknowledge the fact, that the law of gravity applies to me too. I am 52 years old and certain parts of my body are definitely in a downward trend. So, in an effort to slow down the process, I invested in some light support today. This was the first time in over 35 years that I shopped for a bra. Not an easy task, considering I didn't even know my size. We'll see how long I can stand the discomfort of a piece of underwear that obstructs normal breathing.
P.S. (for those of you who were hoping for foto documentation with this post)......
Sorry guys, you'll have to use your imagination.
01/16/2009
OK, I'm concerned about our planet's well-being. Greenhouse gases, and industrial pollution, and human waste in general, are certainly frightening. But when it comes to predicting the consequences, I just get a feeling that our scientists don't have a clue. Do you really expect that global warming to happen anytime soon? I wish we would get that now, but it doesn't look like it.
Today we woke up to -17°F (-27°C), feeling like -37°F (-38°C) with the wind-chill. The hair in your nose freezes together when you breathe in, the wind hits your face like needles, snow crunches like gravel as you walk or drive on it. This is the coldest temperature ever recorded in Fort Wayne for today's date.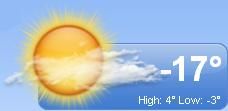 12/21/2008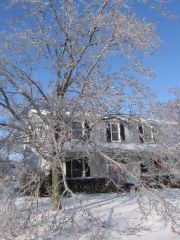 After working for 25 hours straight on Friday, Tom was called in again today at 5:00 a.m. The wind had picked up, causing more branches to break off trees and tear down power lines. The temperature today is at 2°F, which feels like -15°F with the wind-chill.
Even though it is brutally cold outside, I just had to go take pictures. The frozen landscape is of breathtaking beauty! Trees and bushes look like they are made out of glass. You can hear the crackling sounds of breaking ice as the wind moves the heavily coated branches.
12/19/2008
We had been warned, it was all over the news. Late Thursday night we would be hit by a winter ice storm with high winds and freezing rain. The forecast was accurate. Today we woke up to a beautiful disaster. Big branches, coated with thick ice, had broken off old trees, tearing down power lines and telephone posts as they fell onto the glazed roads.
All schools were closed. Indiana Tech sent a message to all employees - report to work at noon. Over 100,000 people were out of power, more than half of them still are. I had to use the rubber covered handle of a big hammer to knock half an inch of clear ice off the van's door, just to be able to get into the car and drive to work.