06/10/2009
OK, I admit, I'm spoiled. After living in Munich, Germany, the home of the world's only real Oktoberfest, for roughly half a century, I am probably unable to appreciate the efforts made elsewhere.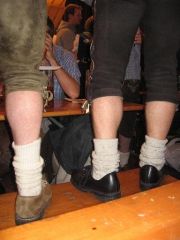 Like in Fort Wayne, with Germanfest under way.
I'm undecided whether to laugh or cry, when I see 0.33l portions of beer being served in plastic cups and people performing a city-wide Chicken Dance, which they believe to be a German tradition.
Today, watching Indiana's Newscenter on channel 21 in the morning, it was definitely time to laugh! Ryan Elijah announced today's Germanfest highlight, the tapping of the first keg at the festival tent, and Mary Collins commented on all the good stuff we'd be seeing.
Like people wearing *Lederhasen, or what do you call it?*.
I realize this isn't funny for those of you, who don't speak German. Sorry about that.
05/21/2009
Robert "Bobby" Munger, a student at Indiana Tech, parked his senior project outside Zollner on campus today. He took an old VW Beetle and turned it into a fully street-legal, 100% plug-in, electric car.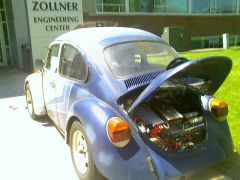 It cost him about $8,000 for the parts, countless hours of work, and some help from his buddies.
Right now he says the bug will run 20 miles on a charge; when it's fully broke in Bobby hopes to be getting 30 miles out of it. Charging time is around 3 to 6 hours, depending on how far the eight batteries are down.
I think this project shows the true spirit of America, and find it kind of sad that the school won't let him plug it in on campus.
04/16/2009
Tonight at 7:05 p.m. the TinCaps will play against the Dayton Dragons. This is the official opening game for the new Parkview Field in downtown Fort Wayne. Everybody is getting very excited about it; one of Indiana Tech's students even had his/her VW Beetle decorated like a baseball.

I took a picture of the car with my cell phone's camera and submitted that to channel 21's YouNews website. They must have liked my photo, because they ran it last night, and today in the morning, as their 'picture of the day' during the news cast.
03/23/2009
Good thing I listened to the news before driving to work today. If I hadn't done that, I would have probably been late. Some time Sunday evening a huge sinkhole had opened up on North Anthony Boulevard, just south of the bridge over the Maumee, right before the railroad crossing. The road will most likely be closed for a week or two, until that twenty feet deep and ten feet wide hole is fixed.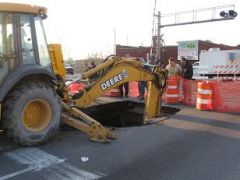 A section of Fort Wayne's over 125 years old brick tunnel sewer system must have caved in. Nobody was seriously hurt and traffic has been successfully rerouted.
02/23/2009
Today I finally made the decision to acknowledge the fact, that the law of gravity applies to me too. I am 52 years old and certain parts of my body are definitely in a downward trend. So, in an effort to slow down the process, I invested in some light support today. This was the first time in over 35 years that I shopped for a bra. Not an easy task, considering I didn't even know my size. We'll see how long I can stand the discomfort of a piece of underwear that obstructs normal breathing.
P.S. (for those of you who were hoping for foto documentation with this post)......
Sorry guys, you'll have to use your imagination.