10/20/2009
Fall is well under way, Halloween is quickly approaching. Some people like to decorate their houses with traditional arrangements, like straw and real pumpkins, while others turn to contemporary ornaments, like this one on my way to work.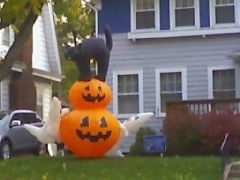 This small two-story house on North Anthony Boulevard has a twelve feet high blow-up object sitting in the front yard. It is a tasteful (?) work of art, featuring two pumpkins stacked on top of each other, a black cat balancing above, and two friendly ghosts attached sideways.
Going past that always puts a smile on my face. I wonder what kind of people live in the house.
06/15/2009
....... if you can't fly yet. Or else you might end up stuck in a dangerous place, like this little robin in our front yard.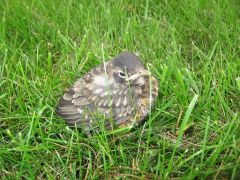 06/10/2009
OK, I admit, I'm spoiled. After living in Munich, Germany, the home of the world's only real Oktoberfest, for roughly half a century, I am probably unable to appreciate the efforts made elsewhere.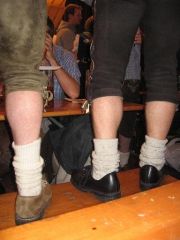 Like in Fort Wayne, with Germanfest under way.
I'm undecided whether to laugh or cry, when I see 0.33l portions of beer being served in plastic cups and people performing a city-wide Chicken Dance, which they believe to be a German tradition.
Today, watching Indiana's Newscenter on channel 21 in the morning, it was definitely time to laugh! Ryan Elijah announced today's Germanfest highlight, the tapping of the first keg at the festival tent, and Mary Collins commented on all the good stuff we'd be seeing.
Like people wearing *Lederhasen, or what do you call it?*.
I realize this isn't funny for those of you, who don't speak German. Sorry about that.
05/21/2009
Robert "Bobby" Munger, a student at Indiana Tech, parked his senior project outside Zollner on campus today. He took an old VW Beetle and turned it into a fully street-legal, 100% plug-in, electric car.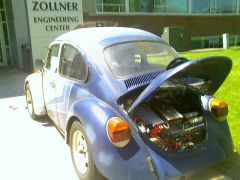 It cost him about $8,000 for the parts, countless hours of work, and some help from his buddies.
Right now he says the bug will run 20 miles on a charge; when it's fully broke in Bobby hopes to be getting 30 miles out of it. Charging time is around 3 to 6 hours, depending on how far the eight batteries are down.
I think this project shows the true spirit of America, and find it kind of sad that the school won't let him plug it in on campus.
04/16/2009
Tonight at 7:05 p.m. the TinCaps will play against the Dayton Dragons. This is the official opening game for the new Parkview Field in downtown Fort Wayne. Everybody is getting very excited about it; one of Indiana Tech's students even had his/her VW Beetle decorated like a baseball.

I took a picture of the car with my cell phone's camera and submitted that to channel 21's YouNews website. They must have liked my photo, because they ran it last night, and today in the morning, as their 'picture of the day' during the news cast.