09/01/2007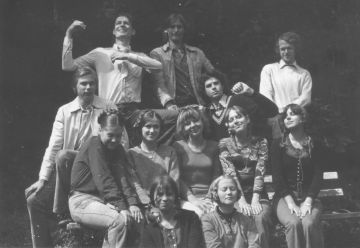 I graduated from highschool in May 1975, after the required 13 years of school in Germany. About 80 other people graduated the same day at the same highschool, 17 of which were my classmates. I lost contact with them almost immediately, because my dad took the family to California for one year in July 1975.
Twenty years after graduation two of the *girls* in my class organized a class reunion and I went there, out of curiosity. It was fun to see what those *kids* had turned into. I recognized most of the people, after I heard their names - but some had changed so much, they could have told me anything.
This year, during my vacation in Germany, I think it's time for another re-union. And, with the help of the internet, I found it relatively easy to research my classmates' addresses, phone numbers, emails, even work places. We'll go back to the roots again.
P.S.: can you guess where I am on the photo?
08/11/2007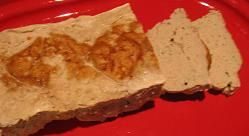 Home is where the heart is? I get a feeling the stomach is involved too. I wouldn't say I'm homesick, but sometimes I get these cravings for certain foods, which you just can't buy in Fort Wayne. Yes, there is mail order, and online stores. It's not the same.
So today I tried out my new electric meat grinder. I turned two pounds of hamburger and chicken breast into Bavarian Leberkäs'. Tom had to have a slice right out of the oven. There it is again, that warm fuzzy feeling of home.
06/14/2007
One of my favorite TV shows in Germany was *Alarm für Cobra 11 - die Autobahnpolizei*. I used to look forward to Thursday nights at 8:15 p.m. when it would come on.
After moving to the USA it took me a while to find out how I can still watch German TV. First you have to sign up for an online recording service. Then you need to schedule a recording, then download and decode the file, and then you can watch it on your computer.
I'm looking forward to Thursday evenings again, for an hour of fun and action on TV. And then there's also Sunday nights, when I can watch *Tatort* - like I used to do for decades.
05/02/2007
I really got tired of having to switch my brain and fingers from German to US keyboard layout twice a day. Plus I think, I'll be spending a few more years at Indiana Tech - so it's OK to personalize my tools.
So today I took an old IBM PS/2 keyboard, manufactured in 1994, with 102 keys, German layout, and that familiar *click* to work. All I needed was a PS/2 to USB adapter, and some fiddling with the regional and language settings on my Dell computer.
Works like a charm!
04/26/2007
OK - for all my 5 or 6 average daily visitors - you've been warned...
I really did it now, this blog can be purchased as a printed paperback book, or a downloadable .pdf-file. It will also be distributed via Amazon and other bookstores soon.
I purchased an ISBN for the first edition, which makes it more expensive (costs $32.95). I will continue to update the book, as I post on the blog. The continued edition doesn't have an ISBN (it changes too frequently) - so you can buy it at a lower price of only $21.95 (directly from the publisher). The downloadable version is $6.95 for either edition.
Just in case you can't wait to get your hands on the first copy, hot off the press, buy it here directly from the publisher: