07/19/2008
Some Saturdays, when I do our grocery shopping, I stop by a local Cap 'n Cork and stock up on imported beer from Munich. Today I met Günther there, who is working at that liquor store a couple of days a week. I noticed a German accent, and his name tag was a give-away.
He had moved from München-Schwabing to Pennsylvania fourty years ago. There he found his wife, also a German, from Braunschweig. They now live in Fort Wayne, but he still visits his old friend Albert in München, about every three years. He said München changed a lot. The place where he lived was called *Feilitzsch-Platz* back then. It is now *Münchner Freiheit*.

05/04/2008
Germans in general aren't as actively practicing religion, as people in the Midwest. But Catholic and Lutheran Holidays are strictly observed. This year Whitsunday (the first day of Catholic Pentecost in Germany) would be on the same day as Mother's Day (which is always the second Sunday in May).
Since Catholic Holidays were scheduled long before Mother's Day was even invented, whenever Pentecost falls on the second Sunday in May, Mother's Day is celebrated on the first Sunday in May - at least in Germany.
So I ordered a pretty bouquet of flowers, and a heart-shaped box of chocolate to go with it, for my mom.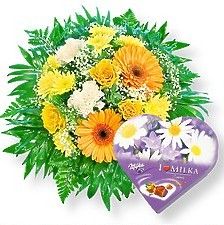 04/17/2008
Now, when you tell people here you bought a Mercedes, this is probably not what they have in mind.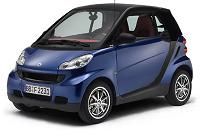 The *Smart for 2* has been available in Germany since 1998, and officially made it to the USA in November 2007.
With gas priced at about $3.50 a gallon, people are likely to smarten up more around here too.
When I went for my lunch-break walk today, I saw the first one cruising down the road in Fort Wayne.
12/02/2007
Germany has many ancient, antique, old, modern and new traditions built around pagan, christian, political and commercial holidays. December is especially suitable for celebrations, because it's dark and cold outside. People cuddle up by the fireplace, with a cup of mulled wine and cinnamon cookies. The smell of pine or fir from an advent wreath is one of my oldest memories associated with the month of December.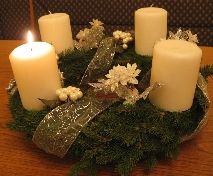 The wreaths you will find in stores here are different. You hang those up on a wall, or on your door. The advent wreath I associate with Christmas sits on a table and has four candles on it, one more of which you light on each of the four Sundays before the 24th of December.
So, if I want to keep the traditions alive, I have to make my own advent wreath. Last year I had one with red and gold decoration, this year I went with white and silver. Building it was fun! And the result looks very professional.
11/25/2007
Last year, for my 50th birthday, my daughter wrote me a beautiful letter - with a silver pen on dark red paper, and 50 little silver hearts embedded in the text.
This year she wrote a poem for me. I will not translate it for you, so those of you who don't understand German, will maybe feel left out. Sorry about that.
Mein Gedicht für Dich...
so es ist mal wieder so weit, ein Jahr ist rum und Du hast Geburtstag.
Deswegen ALLES GUTE, immer VIEL GLÜCK und ein Gedicht weil ich Dich so mag !
Rosen sind rot, Veilchen sind blau,
Mama Du bist `ne tolle Frau.
Hihi Spaß !! Das sollte es nicht gewesen sein, hier kommt der wahre Reim :)
Es gibt so viel über Dich zu sagen,
Du bist `ne Powerfrau und konntest im Leben viele Lasten tragen.
Du hast mir `ne schöne Kindheit geschenkt
und als die Pubertät einsetzte mich auf den richtigen Weg gelenkt.
Ich hab` Dir zu verdanken, daß Du mich selbstbewußt und stark erzogen hast
und, daß Du immer mit Rat und Tat an meiner Seite warst.
Bewundern tue ich, daß Du in schwierigen Situationen einen kühlen Kopf bewahrst
und Probleme systematisch lösen kannst.
An dieser Stelle muss ich sagen: Es tut mir leid,
daß ich Dich manchmal beschimpft hab` wegen einer Kleinigkeit.
Doch manche Zeiten waren nicht sonderlich leicht für mich
und ich weiß, sie waren`s auch nicht für Dich.
Jetzt im Nachhinein kann ich Vieles verstehen
und das Geschehene aus der Entfernung ansehen.
Zum Beispiel als Du Dich vom Papa geschieden hast
und zur gleichen Zeit bereits mit`m Tom zusammen warst.
Das war für mich damals schwer zu begreifen,
aber solche Erfahrungen ließen mich reifen.
Was ich von Dir gelernt hab` ist, daß jeder Mensch seine Entscheidung für sich trifft,
auch wenn sie in den Augen anderer nicht richtig ist.
Und dann die Kraft zu besitzen und den Schritt zu wagen,
seine Ziele durchzusetzen und die Folgen eventueller Fehler zu tragen.
Du hast mich zu dem gemacht was ich heute bin,
hoffentlich ist das Ergebnis auch in Deinem Sinn ;)
Meine Mama, Vorbild und Freundin....
Auch wenn wir uns "nur" am Telefon hören und auf Fotos sehen,
wirst Du für immer und ewig in meinem Herzen stehen.
Ich bin stolz, daß Du meine Mama bist,
weil jemanden wie Dich zu haben das Größte ist !!!!!!!!!!!!!!!!!!!!
Ich hab dich unendlich mal Tausend lieb, piep :))
Bussssssssiiiiiiiiiiiiiiiiiiiiiiiii
Deine Alejandra