05/02/2009
Tom and I drove to Indianapolis today, with a long shopping list for Costco. We also wanted to check out the World Market in Carmel, since the one in Fort Wayne was closed a while ago and we are running out of licorice.
And then there is Claus' German Sausages & Meats, which I had found on Google some time ago. I wanted to have a look at that store, maybe get some Fleischkäs' or Leberwurst. They have the typical selection that you would expect in any German butchery, but they also have something that we had given up on trying to find here: Augustiner beer!
I thought Augustiner Bräu doesn't export, because they don't produce that much. Now I'll have to go talk to the Belmont Beverage store close to home and tell them to make my favorite beer available.
04/10/2009
The yodel that I currently practice on my way to work is called 'Enrosadira'. I downloaded it from Amazon because it sounds great, and I wondered what the title meant. Now that I can do the yodel good enough to publish it on YouTube, I found some time to research the meaning.
Enrosadira means 'to turn rose-coloured' in the language of the Ladins. You can watch the pale, rocky walls of the Dolomites change colours at sunset, on days with a special atmosphere. This phenomenon is caused by the chemical composition of calcium carbonate and magnesium, which gives the mountains a rosy colour that gradually turns to purple.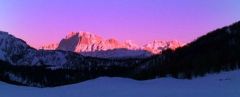 12/31/2008
New Year's Eve means party time! We were invited to our friends' house for a potluck. I made herring salad and German pretzels. People also brought fire-crackers and several bottles of champagne. Everybody watched *Dinner for One* shortly before midnight, and after that we lit our fireworks.
I had finally found the materials needed for a German New Year's tradition from an online source, directly imported from Germany. You can't buy it in stores here, because it is considered a hazardous chemical. So this year, for the first time since we moved, we were able to tell our fortune from melted lead.
You put a small chunk of lead (actually 87% lead and 13% tin) on a spoon and hold that over a candle until it melts. Then you dump the liquid metal into a bowl with cold water. Look at the random shape you get, try to associate what this might look like to you, and interpret the meaning for your future.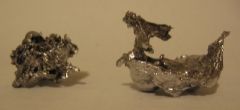 One of my two pieces of lead looks like a JetSki or a motorcycle to me, the other one is more like a bug on a fuzz-ball.
11/25/2008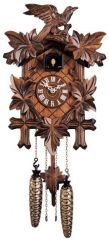 I like *old school* things just as much as I enjoy *high tech*. I also collect clocks. So the gift I received from Tom for my birthday today was very fit and proper. It is a fully mechanical wooden cuckoo clock, made in Germany.
Tom had bought the clock while we were in Munich, two months ago. I had seen the box before, and knowing what kind of things they sell in that store, I knew it would have to be either a beer stein or a cuckoo clock.
I love it!
09/26/2008
OK - 3-ply toilet paper wasn't the main reason why we travelled to Germany again this year. There is a lot of other things to enjoy. Like my daughter's nineteenth birthday, or Munich's world famous Oktoberfest, or my dad's little old house in Austria, or seeing my family again.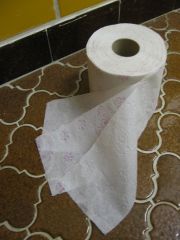 But 3-ply toilet paper is definitely a product I really miss in the USA. For the first half century of my life I never wasted a thought on something as basic as tissue. Until the day I realized, that US tissue is very different. Even the highest quality Charmin or Cottonelle doesn't compare to some good old Hakle dreilagig.