03/26/2008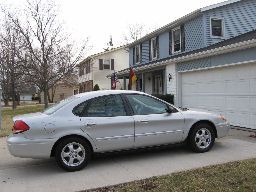 Our old 1990 Geo Tracker, with 207,000 miles on it's first engine, had been very convenient and fun to drive for two years. We bought it cheap, did only minimal maintenance on it, and got a lot of use out of it.
But the water pump was showing signs of imminent failure: random squeaks and anti-freeze on the ground underneath the car.
We had been thinking about replacing the old junker anyways - so now was the perfect time to actually go do that. Tom had seen a 2005 Ford Taurus at the same car dealership where we bought our van two years ago.
They took the Tracker for a trade and gave us a good deal on the Taurus. It cost us $7,000 - almost $2,000 below the Kelly Bluebook value. We are now the proud owners of a flexible fuel car, it runs on E85 (or regular unleaded). I like the idea of burning Indiana's corn instead of OPEC's fossil fuel.
12/14/2007
OK, you might say that, after roughly 30 years in Information Technology, it's maybe kind of late for me to start pursuing my Bachelor's Degree - but this is exactly what I'm going to do.
I am going to take advantage of Indiana Tech's generous offer - free tuition for employees - and start working on my BS in Business Administration. My major is going to be Management Information Systems. I'll be going to class for the next approximately four years, one night per week.
I picked an easy one for my first class, starting in January 2008: Foundations of Quantitative Methods.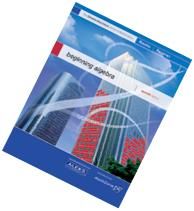 Today I went over to the bookroom and received my algebra book for that class.
I am very excited about it!
11/05/2007
One of my colleagues found himself a new job. Good for him, a little scary for me. With the entire IT department consisting of 7 people (including our boss) just one of us leaving means at least 14% of our manpower is gone. And with only two weeks notice, which is a relatively long time for the USA (but still unbelievably short in my opinion), there was really no way I could have absorbed his six years of working experience at Indiana Tech, while he was still here.
So, until we find and hire a new database administrator, I'm going to be flying this thing by myself (mostly) with some much needed help and moral support from the remaining team. Now that I was barely starting to wrap my head around client-server application development within the .NET framework, I'll have to quickly get a grip on things like Jenzabar EX (an ERP/ERM system for higher education institutions) and administration of the MS SQL server database it resides on.
Coming to think of it, I'm going to love every bit of the process!
06/28/2007
When we bought our house, in March 2006, we were lucky to get financing at all. So we had to take hat we could get. Which was a five year ARM, with an initial APR of 7.5%.
Now, a year later, with both our credit scores somewhere around 700, we thought it would be easy to refinance that first mortgage. So we responded to one of those *lower-my-bills* ads. We explained our financial situation in full detail, submitted about 50 pages of paperwork to prove it, and got pre-approved.
The mortgage broker sent an appraiser out to our house, we had to pay $400 for that. And then, very much to our surprise, the broker told us *Sorry, but we can't give you that money - Tom hasn't been self-employed for two years yet.*. We were pissed, to put it mildly.
But at least that mortgage broker knew somebody who works at a bank. And, using this personal connection, we finally managed to get the deal done. It took another two months, another 50 pages of paperwork, and approximately 20 phone calls. Now we have a 30-years fixed rate, at 6.4% APR - and sufficient cash back, so we can build a fence around our back yard. Armani will enjoy that!
04/05/2007
Once you get the hang of it, you'll agree that application development using VB.NET and SQL Server Reporting Services is so easy, it should be illegal.
My second *practice project* involved more than just calling a stored procedure and passing two parameters. I had to develop a new user interface for the existing key database. This was a great way to learn everything I'll ever need to know about developing a database interface.
There's functionality for searching certain records in a relational database, then there's adding, deleting and updating records in the database, and there's also generating printable reports.
What I like the best about it is, that I realized all my long years of experience and all the accumulated knowledge from *stone-age IT* are not obsolete. It wasn't a waste to do mainframe IT, build MFS blocks, or work with DB2 databases. All this is part of the bigger picture - and not really different from what I'm doing now.