10/11/2008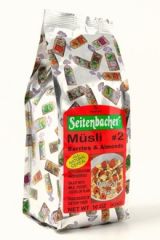 Saturday is usually the day that I go to get groceries at Meijer. I try to avoid preprocessed foods with long ingredient lists, so most of the times I don't even go thru the cereal aisle.
Today I had a coupon for $1 off any cereal - and therefore had to stroll along the endless shelves of cornflakes loaded with sugar. At the very end of that aisle they have a small section with healthier choices, and there I spotted something new!
Meijer now carries several different kinds of Seitenbacher Müsli, imported from Germany! The price isn't beyond reach either, even though it's more expensive than in Germany, of course. Now I can have some more variety for my breakfast. I'm not limited to the only acceptable kind of cereal I found years ago (Bob's Red Mill Müsli) anymore.
Yum!
08/29/2008
The motorcycle license I had achieved in Germany back in 1981 is still valid all over Europe. But it is worth nothing in Indiana. Ever since Tom bought his motorcycle, I wanted my *M* endorsement back.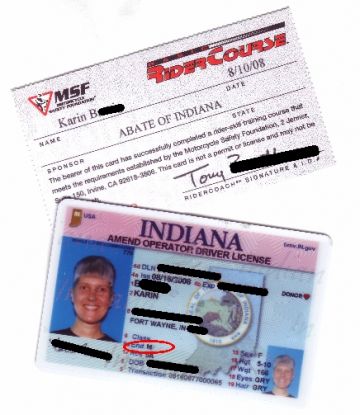 Being a resident alien I had to go thru a few extra hoops to reach that goal. First pass the written test to get the learner permit. US citizens receive the permit instantly. Aliens have their paperwork, including copies of passport and green card, processed in Indianapolis. Verification of your status takes about two weeks.
The next step is a weekend on a parking lot. That's called *motorcycle safety training*. Good thing, for somebody who has never rode a motorcycle. A little bit boring for everybody else.
After you pass the riding exam at the end of that weekend, you can go sit and wait around at your local BMV again. US citizens walk home with their new license on that day. Aliens like myself need to be checked out again, going thru Indianapolis again, just to make sure that you are still legal.
Today my pretty new driver license, with that extremely valuable *M* on it, arrived in the mail. Woo-Hoo!
07/26/2008
OK, I know you need to walk or run at least 30 minutes every other day to stay in shape. Especially with the kind of jobs we have, sitting behind a desk all day long. But then, sometimes it is too hot, or too cold, or too wet, or too dark, or too late.......... and I find myself getting the exercise I need only once a week, at most.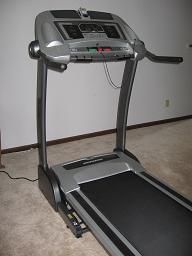 Now this is going to change! We went to Dick's sporting goods and bought a treadmill. After doing some research on the web and looking at different models in the store, we decided on a Horizon T900, which seemed to offer the best value for the price.
Getting the 360 lb. machine set up in our big, empty family room - which has been redefined to be the gymn - was a major challenge. Especially since one of the holes on the frame wasn't drilled in the right place. MADE IN CHINA - do I need to say more?
05/30/2008
Indiana Tech's new student residence hall is growing rapidly.
When I go for my lunch-break walk, I usually take a picture of it with my cell phone's camera.
Just for the fun of it, and to find out how that works, I turned my PowerPoint presentation into a video and uploaded that to YouTube.
Enjoy!
04/18/2008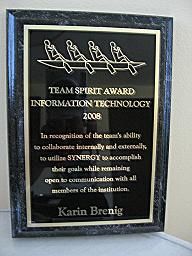 One very nice detail of American workplace culture, something I haven't seen in over 27 years of employment in Germany, is the recognition that you get for working hard.
Today Indiana Tech celebrated the annual employee awards ceremony, where individuals and teams are honored for their outstanding contributions to the success of our institution.
The surprise at the very end of this ceremony was this year's winner of our *Team Spirit Award* - the Information Technology department. We each received a nice plaque and a $100 gift certificate for Eddie Merlot's - a fancy local restaurant.