09/07/2009
For over half a century I have been taught to actively solve problems whenever I am confronted with them. I learned, that it is *good* to act immediately, instead of waiting things out and letting a situation become unbearable for everyone involved. When I see something that isn't *right*, I feel an urge to jump in and help to *fix* things.
During the past ten months, however, I had to learn how to passively watch ugly circumstances turn almost hopeless. All my help, advice, and ideas, which I volunteered in an effort to reduce the damage, were vigorously rejected. Matters had to hit rock bottom before the person in charge finally decided to act responsibly.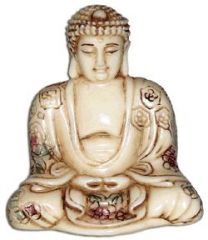 While I consider this ordeal a valuable, character building, experience, I am still greatly relieved that it is over. Life seems to be heading in the right direction again, without me doing a thing - other than holding still and staying calm.
11/05/2008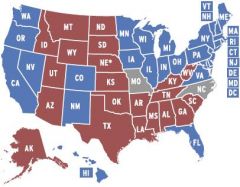 OK, I had nothing to do with it. But considering the outcome, I'd say the election results are acceptable. There were no big surprises. Just some records were broken. Indiana voted Democrat for President, a first in 44 years. I'm glad we keep Mitch Daniels as Indiana's Governor. I like his plans with property taxes.
10/23/2008
I need 123 college credits for my degree. At a rate of one class per week, five weeks per class, taking eight courses per year and earning three credits per course, I figured it would take me about five years. So every opportunity to shorten that time is more than welcome.
One very quick way to earn credits is thru a CLEP exam. I like that idea a lot! Why not prove that you acquired valuable knowledge about something somewhere outside a classroom?
Which is why today I took a CLEP test for a subject I master without special preparation: German. I scored a perfect 80 points, the maximum possible, which is worth 12 credits.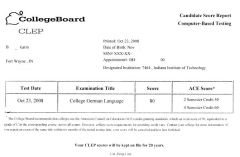 10/11/2008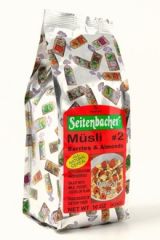 Saturday is usually the day that I go to get groceries at Meijer. I try to avoid preprocessed foods with long ingredient lists, so most of the times I don't even go thru the cereal aisle.
Today I had a coupon for $1 off any cereal - and therefore had to stroll along the endless shelves of cornflakes loaded with sugar. At the very end of that aisle they have a small section with healthier choices, and there I spotted something new!
Meijer now carries several different kinds of Seitenbacher Müsli, imported from Germany! The price isn't beyond reach either, even though it's more expensive than in Germany, of course. Now I can have some more variety for my breakfast. I'm not limited to the only acceptable kind of cereal I found years ago (Bob's Red Mill Müsli) anymore.
Yum!
08/29/2008
The motorcycle license I had achieved in Germany back in 1981 is still valid all over Europe. But it is worth nothing in Indiana. Ever since Tom bought his motorcycle, I wanted my *M* endorsement back.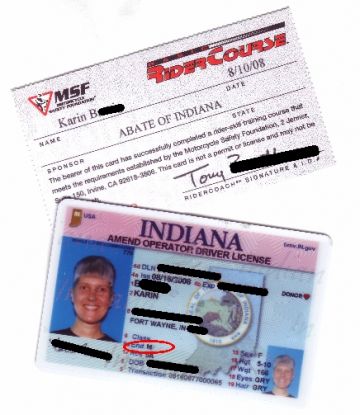 Being a resident alien I had to go thru a few extra hoops to reach that goal. First pass the written test to get the learner permit. US citizens receive the permit instantly. Aliens have their paperwork, including copies of passport and green card, processed in Indianapolis. Verification of your status takes about two weeks.
The next step is a weekend on a parking lot. That's called *motorcycle safety training*. Good thing, for somebody who has never rode a motorcycle. A little bit boring for everybody else.
After you pass the riding exam at the end of that weekend, you can go sit and wait around at your local BMV again. US citizens walk home with their new license on that day. Aliens like myself need to be checked out again, going thru Indianapolis again, just to make sure that you are still legal.
Today my pretty new driver license, with that extremely valuable *M* on it, arrived in the mail. Woo-Hoo!