03/30/2011
Last Thursday, while I was driving home from work, the transmission in our 2005 Ford Taurus died without warning. I was lucky to be able to safely roll onto the left turn lane. Other than bruising my knee, when I fell on the parking lot where we pushed the car to, I suffered no injuries.
Two people going to work need two cars to get there, so we had to find replacement quickly. Transmission repair was estimated to cost between $1,200 and $2,000 - more than we were willing to pay, not knowing what would be next. So we went car shopping on the weekend and picked up our new vehicle today.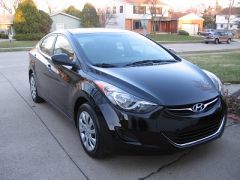 Proudly presenting:
2011 Hyundai Elantra
with manual transmission
01/25/2011


Europeans tend to believe they 'invented' recycling, or at least they are way better at doing it. This is not the case! Fort Wayne has had a recycling program ever since we moved here, and before that. The two plastic boxes, containing recyclable glass, plastics 1 and 2, paper, cardboard, and metal, were being picked up on trash day every other week.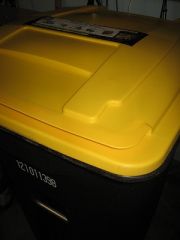 That was pretty good already, but now it's getting even better! When I came home from work today I found a shiny new big trash bin with a bright yellow lid parked by our curbside. All neighbors along our street got theirs too!
10/15/2010
Today after work I went to pick up our van from the body shop. I was surprised that they had actually kept their promise to get it done within the week. From my experience with two different accidents I can now seriously recommend having full coverage car insurance. Dealing with just your own insurer for the entire process is a lot less stress and well worth paying a bit more for.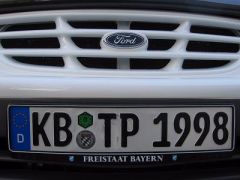 Now that I mounted my slightly damaged custom German license plate with the 'real' fake seals on the shiny new front bumper again you wouldn't believe this car is over ten years old.
09/02/2010
..... somebody has the fantastic idea of putting a sidewalk in along Lima Road!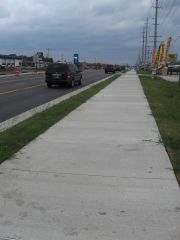 Construction to widen Highway 3 up to three lanes each direction has been ongoing for almost a year now. It doesn't look like they will get done any time soon. While driving that way is still a big mess, there is hope for an amazing future along the road, though.
There is a sidewalk!
03/17/2010
I made it about half way through my Bachelor's degree studies; you may officially call me a *Junior* now. Tomorrow night I'll take the final test for my current 'Group Dynamics' class.
Our teacher lets us use a 5"x7" piece of paper, front and back, with whatever we want to put on it, as our cheat-sheet.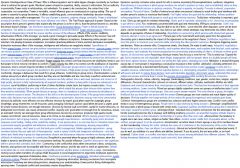 Here's how I made mine:
first I answered all questions on the teacher's study guide, using her class hand-outs. Then I copied all those answers onto a new word document, omitting all line spacing and paragraphing and indentations.
Arial narrow, 8 pt., is the smallest font I can read. Alternating colors adds even more readability. Then I printed that onto 2 pages of letter size paper, cut the text portions out exactly 5" by 7", and glued the pages together to make a 'front' and 'back'.