06/15/2014
OK, I realize that most riders around here don't even own a helmet. It's "uncool", especially on a Harley. I always wear a helmet when I ride; I don't worry about looking "cool". Until now, any old helmet would do for me. It needs to fit, of course, and cover my face completely. It also needed to be reasonably priced.
My helmet served me well, with only one minor complaint: at speeds over about 50mph I had to put up with a lot of vibration inside, making my glasses dance on my nose, causing blurry vision. So I had been toying around the idea of a Schuberth C3. Made in Germany, excellent reviews, integrated Bluetooth communication system, but one huge problem: it costs around $1,000 new.
Watching ebay, I realized there are not many of those available either. People, who have one, probably like it so much they won't sell. Last Sunday I got really lucky, though! I won an auction for this white Schuberth C3 with SRC system already installed, used for only 500 miles, selling because of "sizing issues". It's mine for only $426, including shipping.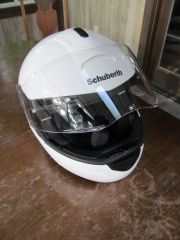 When I first tried it on, I experienced serious buyer's remorse.
It is heavy. It takes some fiddling to put on and take off. The chin-strap has some hard parts to it, which dig into the front of your neck, because the soft cushion doesn't stay in place. Sizing doesn't follow their own charts, really. People recommend you buy one size up from what you normally wear. So I got an XL, because I normally wear size L. Schuberth's XL seems just a tad too big for me, though - oh boy, what have I done...
My first impulse was to turn around and list it back on ebay.
Now I'm really glad I didn't follow that impulse! All those little problems have very easy fixes. I replaced the C3 size XL crown lining with a S2 size XL crown lining, which has the same shape and buttons, but is a bit thicker, making for a perfect, snug but comfortable, fit. The chin-strap cushion will stay put now that I sewed some velcro onto it. Putting the helmet on and removing it simply takes practice, and the weight really just takes getting used to.
My perseverance is being rewarded with the experience of a world class helmet, quiet interior, no fog, a retractable sun visor, crystal clear sound system, excellent ventilation - and hardly any vibration.
I'm hooked.
05/14/2014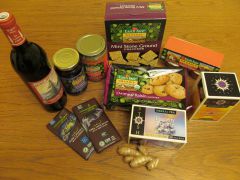 Last week a new grocery store opened in my neighborhood.
Earth Fare promises natural and organic food and supplements with the slogan "real food for real people".
No hydrogenated oil, no high-fructose corn syrup, no artificial sweeteners. Sounds good. Today we went to take a look. The store is bigger than the Health Food Shoppe on Anthony Boulevard, but smaller than the Fresh Market.
They really carry a good selection of natural and organic food, cosmetics, and other items. Some of those are also available at regular stores, like Meijer or Costco, but certain items I have never been able to find anywhere. Like red wine without sulfites.
I wouldn't recommend doing your everyday grocery shopping at Earth Fare, though. The prices are hefty, like I had expected after talking to people who had been there when the store opened. Judging by those items that I've seen elsewhere Earth Fare equals Meijer times two, or Costco times three.
04/19/2013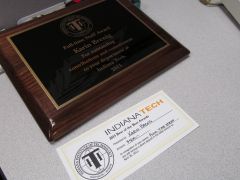 I consider myself lucky to have a job, even more lucky to have a job that is fun, and extremely lucky to work at an institution where hard work is being officially recognized and rewarded.
Yes, we do get paid - so maybe we shouldn't even expect something else - but it sure feels nice to get more than just the paycheck.
At our annual Employee Awards ceremony over a dozen individuals receive special recognition, documented with a nice plaque and sweetened up with a tax-free bonus check, for outstanding contributions to their teams' and the institution's success.
This year I was among those honored.
04/03/2013
The annual championship in a popular sport is closing in on its finish, deadline being April 15th, as usual.
The promoters of this fine race make sure that the requirements for the millions of participants are a little more challenging every year, just to keep up with the ever growing demand for sophisticated organization.
It takes years of practice and coaching for even the most talented players to get to the point where they can attempt to cross the finish line on their own, without a professional trainer guiding them.
This year I am proud to report that we reached the pinnacle! In my 8th year of participation, we were able to come up with 20 pages worth of federal, and 8 pages worth of state tax returns. We only needed 35 worksheets, and just short of 5 hours to complete the obstacle course. I admit we used the help of a computer program, but that still seems to be legal. After the final counts were in, we realized that the damage was much less than anticipated, and there were no penalties!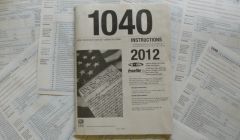 01/04/2013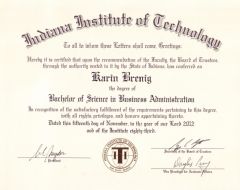 I had passed my last class in November of 2012, but it took until today for my diploma to be ready for pick-up. So now, finally, over 37 years after I graduated from high-school, I finished my Bachelor's degree. This is it, I'm done with school. No, I don't attempt to go any further. There will be no Master's or PhD in my future. I feel smart enough the way it is now.