01/29/2010
From the 'work' point of view this week was pretty much lost. Two unrelated incidents resulted in greatly reduced productivity for me personally, and for the team as a whole: on Monday my computer's harddrive crashed, and an important colleague didn't show up for work.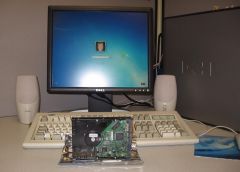 The way those two incidents unfolded, and were dealt with, over the course of five work days resulted in valuable gain, though.
I learned a lot about Windows 7, and I learned a lot about people.
When our comfortable routine gets disrupted by unexpected events, we forget about the carefully orchestrated masquerade that we keep up to protect our true self. People's unkempt faces show, and you recognize the leaders, the followers, the bystanders, and the saboteurs.
Of course, all that matters is the end result: I now have Windows 7 running on my computer, with most of my tools working again, and our colleague will hopefully be back to work on Monday.
01/20/2009
I know, we are in a world-wide recession, everybody is affected. Individuals, families, groups, small businesses, large businesses, nobody is truly safe. You see the signs all over town *space available*, where you remember seing some store just last week.
Until now (knock on wood) I have been very lucky, as far as my personal finances are concerned. But I get a feeling, things are going downhill fast all around me. The number of really big companies going completely out of business, or closing many unprofitable stores, is scary!
In the recent case of World-Market announcing the imminent closure of their Fort Wayne location, it also hurts me personally.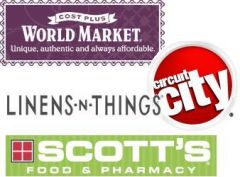 I will have to drive to Carmel now for some of my basic necessities, like Katjes Lakritz, Nürnberger Lebkuchen, Marzipan, Christstollen, Adventskalender or just some ordinary household items that aren't made in China.
08/07/2008
Germany is famous for highly sophisticated products, which solve every-day problems utilizing limited resources and space. One of the most ingenious German inventions, in my opinion, is the Überraschungsei. It grants three wishes at once and has been nourishing the bodies, minds and souls of children (and adults) all around the globe since 1974.
These chocolate eggs containing a small, in most cases yellow, capsule with a tiny toy or puzzle, have been exported to the world for decades. The USA and Africa are the only places, where the combination of food (the chocolate) and non-food (the toy inside) items in one product is against the law.
Which is why it has always been hard to find Kinder Surprise Eggs in the USA, but nobody seemed to really enforce the law regarding them. I used to buy mine at a small Croatian grocery store. Recently there have been incidents in Europe where somebody abused the eggs to smuggle drugs, and elevated levels of mercury have been found in some of the plastic toys inside a few capsules.
So now authorities in the USA are really tightening security against the Ü-Ei threats. Not a single egg will make it thru customs anymore. Good thing I'll be travelling to Munich again in September, to enjoy chocolate eggs and other things.
02/09/2008
One of the big differences between Germany and the USA is the way houses are built. Almost all German houses have a basement, but none of the many basements I have seen (and lived in) in Germany needed a sump pump. The whole concept of that machine was beyond me when I first saw one, looking at houses to buy in Fort Wayne.
Just think about it! Instead of sealing your basement against ground water from the outside when building it, you let water leak into the basement on purpose, by means of drain tiles in your yard, and then pump it back out into the sewer. Now, what if that sump pump ever quits working?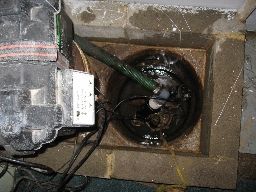 Oh, that's when the secondary pump will kick in, right? Aha, but what if the secondary pump quit working months ago, without you even noticing?
Well, that's what happened in our basement today. Tom was at work, I had slept in late and was going to go swimming at the YMCA. While I got my coat I heard a strange beep coming from the basement. At least the leak alarm worked.
I spent the rest of my day carrying buckets full of icecold, muddy water from the basement to the kitchen. Tom went to the hardware store as soon as he came home from work. It took us ten hours to get everything fixed.
03/30/2007
His five children, four of his 7 grandchildren, his stepchildren and friends and family all came to Ted's funeral. We drove there from Fort Wayne, an 11 hour trip. It was the first time for me to participate in an open casket ceremony. That is definitely not the way I want to be burried, when my time comes. I can't think of anything more horrifying than having to sit there, facing the dead body of a person you loved, and listening to a preacher's speach.