10/31/2008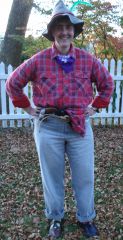 Since there is no Carnival in Fort Wayne, I have to take advantage of Halloween for dressing up. This year I picked *Hotzenplotz* for my character. Thick eyebrows, a black moustache, one of Tom's old winter flannel shirts with a purple bandana around my neck, two different socks, two different shoes, a rope for my belt, a toy pistol, topped with an old felt hat.
Only very few of my colleagues took permission from HR, to break the dress-code, that serious. Later on at night we had quite a few kids come by our house for candy. But there's still enough of it left for me to take to work next week.
09/13/2008
Exactly a week from now, on Saturday September 20th of 2008, at 12:00 noon in the Schottenhamel beer tent, Munich's mayor Christian Ude will tap the first barrel, speak the magic words *O'zapft is* - and thus officially start the 175th edition of *Wies'n*. The world's biggest party, the only *real* original Oktoberfest, will bring 16 days of fun to München. Of course I can't miss that.
The festival site isn't quite set up yet, but it will be - trust me.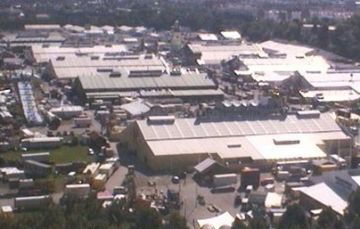 08/27/2008
I've been practicing my yodeling in the car, on my way to and from work, for about ten weeks now. I believe there is some mayor progress! What do you think?
08/02/2008
I had been out at Baer Field Speedway, by the airport, only once. Over five years ago. Tonight Tom took me there again for a few hours of plain fun.

The place hasn't changed at all. It still has this *classic* touch of run-down, worn-out, slightly off, charming atmosphere. Entire families take their big coolers with snacks and drinks, bring blankets to wrap up in when the sun sets, and sit there on pillows or these little folding chairs without legs, or even on the bare weathered wood.
The race cars look like they came straight from the junkyard.
07/04/2008
The 4th of July means extended weekend for me. Time to spend the day doing what I do best: Nothing! After dark we sat outside on the patio, sipping on a glass of wine, just looking up into the sky.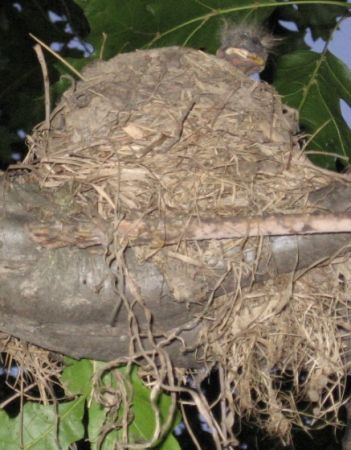 There I spotted a funny little creature looking down at me. We have a robin's nest in one of our trees, and one of the babies was curious. I had to wait for a while for an adult robin to show up and feed the little ones.