02/12/2009
This song is the reason why I wanted to learn how to yodel.
*Oesch's die Dritten* won a yodeling contest in Switzerland with that KuKu-Jodler. After teaching myself the basics of alpine and cowboy style yodeling, singing along with a couple of CDs, in my car on the way to work and back, I finally feel good enough to take on the song that got me started.
I made myself a slowed and transposed down recording of the original performance to work with. By now, I think I'm getting there - just need to speed up a little. Let's hope I don't get pulled over for driving with a camera taped to the dashboard.
01/03/2009
My Christmas present for this year was a skiing trip. The closest ski resort is in Zanesfield, Ohio. We loaded up the van with kids and dog and skiing equipment and drove to the Comfort Inn in Bellefontaine.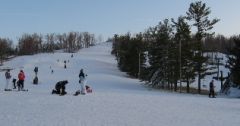 The mountain is more like a hill, but still good enough for a few hours of fun. The area is well organized, offers several different slopes for all skill levels of skiers and snow-boarders. They also have every inch of the terrain covered with snow-making machines. On the weekends they are open until 3 a.m. for 'Midnight Madness'. We didn't stay quite that long, because we wanted to take advantage of the big Jacuzzi bathtub in our hotel room.
11/27/2008
Our wedding anniversary, my birthday and Thanksgiving are three good reasons for a three nights get-away to Las Vegas. We used our frequent flyer miles to pay for the flight and took advantage of a good deal offered by the Golden Nugget hotel.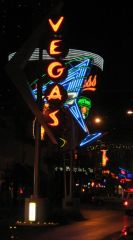 I liked the location, downtown on Fremont Street, better than the Hilton, where we stayed in 2004. Everything is close by in walking distance, and the hourly light show at night is fabulous.
The Golden Nugget has a swimming pool with an aquarium in the center of it. Half a dozen sharks and some other pretty big fish swim in the aquarium. That's quite an experience, swimming next to a shark with only about an inch of glass in between.
10/31/2008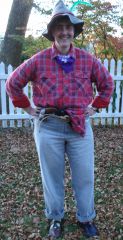 Since there is no Carnival in Fort Wayne, I have to take advantage of Halloween for dressing up. This year I picked *Hotzenplotz* for my character. Thick eyebrows, a black moustache, one of Tom's old winter flannel shirts with a purple bandana around my neck, two different socks, two different shoes, a rope for my belt, a toy pistol, topped with an old felt hat.
Only very few of my colleagues took permission from HR, to break the dress-code, that serious. Later on at night we had quite a few kids come by our house for candy. But there's still enough of it left for me to take to work next week.
09/13/2008
Exactly a week from now, on Saturday September 20th of 2008, at 12:00 noon in the Schottenhamel beer tent, Munich's mayor Christian Ude will tap the first barrel, speak the magic words *O'zapft is* - and thus officially start the 175th edition of *Wies'n*. The world's biggest party, the only *real* original Oktoberfest, will bring 16 days of fun to München. Of course I can't miss that.
The festival site isn't quite set up yet, but it will be - trust me.