03/28/2009
I hadn't gone out to see a movie for quite some time. So today I went to watch *Knowing* - not knowing that it wasn't that great of a show. The idea is kind of interesting, but then the plot isn't very developed. Lot's of money wasted on cool special effects, not enough attention to logic and detail. The ending really sucks!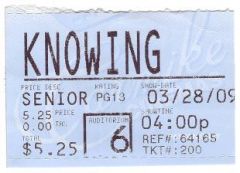 I got lucky on the ticket price though, which made up for the mediocre entertainment. I went for the show at 4:00 p.m., expecting to pay $6.75. When the girl at the box office asked for $5.25 I briefly hesitated - but didn't say anything.
A look at the ticket revealed the reason: I got the senior discount!
I must have looked really old today.
03/11/2009
I had been practicing for about ten months to be able to perform Melanie Oesch's Kuku-Jodel at our annual talent show. Today was the day! I must admit I was a little nervous at first. After all, I had been doing this yodel by myself alone in my car only.
Standing there in the gym, bright lights shining right into my face, a crowd of students watching, feels a bit different. But about 20 seconds into my performance I loosened up, and people seemed to enjoy it. Or maybe that was just because Shelly K., the commentator, told everybody at the beginning: *no booh-ing, folks*.
You'll be my judge now.
BTW (02/02/2012): I took the original video of this performance off of YouTube because it was just too embarassing ;) I performed again a year later with this yodel - still a lot of practice needed, but I'm getting more confident.
02/12/2009
This song is the reason why I wanted to learn how to yodel.
*Oesch's die Dritten* won a yodeling contest in Switzerland with that KuKu-Jodler. After teaching myself the basics of alpine and cowboy style yodeling, singing along with a couple of CDs, in my car on the way to work and back, I finally feel good enough to take on the song that got me started.
I made myself a slowed and transposed down recording of the original performance to work with. By now, I think I'm getting there - just need to speed up a little. Let's hope I don't get pulled over for driving with a camera taped to the dashboard.
01/03/2009
My Christmas present for this year was a skiing trip. The closest ski resort is in Zanesfield, Ohio. We loaded up the van with kids and dog and skiing equipment and drove to the Comfort Inn in Bellefontaine.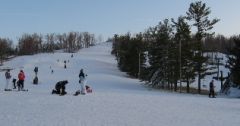 The mountain is more like a hill, but still good enough for a few hours of fun. The area is well organized, offers several different slopes for all skill levels of skiers and snow-boarders. They also have every inch of the terrain covered with snow-making machines. On the weekends they are open until 3 a.m. for 'Midnight Madness'. We didn't stay quite that long, because we wanted to take advantage of the big Jacuzzi bathtub in our hotel room.
11/27/2008
Our wedding anniversary, my birthday and Thanksgiving are three good reasons for a three nights get-away to Las Vegas. We used our frequent flyer miles to pay for the flight and took advantage of a good deal offered by the Golden Nugget hotel.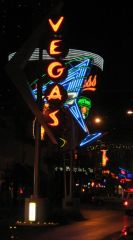 I liked the location, downtown on Fremont Street, better than the Hilton, where we stayed in 2004. Everything is close by in walking distance, and the hourly light show at night is fabulous.
The Golden Nugget has a swimming pool with an aquarium in the center of it. Half a dozen sharks and some other pretty big fish swim in the aquarium. That's quite an experience, swimming next to a shark with only about an inch of glass in between.