06/20/2009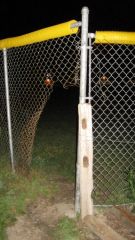 Summer is here, festivals all over the place. Like Churubusco's Turtle Days.
OK - the story behind this one is highly unlikely (giant monster snapper turtle sighted in a pond??), but who cares.
Here's how it works:
You park by the school, then you slip through this door in the fence.
Then you have an overpriced gyros sandwich - excellent taste, but no tools supplied with it, so it's messy.
You look at some of the rides, and wonder if they would pass a TÜV inspection.
You find it odd, that there is no beer tent anywhere near the place.
At last you see truly awesome fireworks, after you found out where they were having them, wandering around in the dark, guessing the location by watching other people congregate somewhere.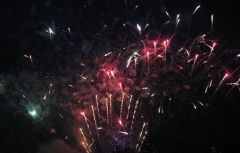 05/23/2009
We went camping with Sarah and Dan to the Pokagon State Park. Camping can be fun, if you have a big tent, good air mattresses, a grill and a stove, lots of bug spray, electricity, a screen tent to keep mosquitoes out while you're eating, and enough food and beer.
While we were sitting around the camp fire, I looked down and saw something move around between last year's leaves and brown dirt. I thought, it was a frog. But Tom said if it's dry and brown, it is a toad.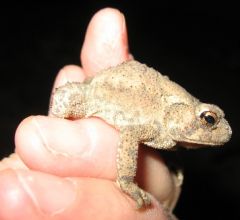 I always associated toad with something fat and ugly, but this little guy was really cute. If he hadn't moved, I would have never seen him.
04/27/2009
Looking back less than a year ago, when I started to learn how to yodel, I've really learned a lot. Now my problem is not to get those practice yodels figured out, the problem is to find new practice yodels that I like. This one sounds perfect on a sunny day!
04/04/2009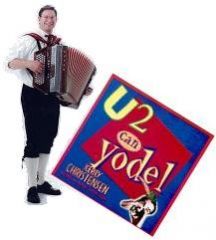 I taught myself yodeling with Kerry Christensen's CD *U2 can yodel*. When I had worked my way all through the lessons on the CD, I posted a video response with my performance of the last, hardest, yodel to Kerry's YouTube info-mercial.
I hadn't expected him to take note of my yodeling attempts, much less contact me about anything.
But that's exactly what he did! Yesterday he wrote me an email, saying that he also saw my interpretation of Melanie Oesch's Kuku-Jodler and would like to talk to me about that.
Today Kerry Christensen called me on the phone, to chat about yodeling in general and my approach to learning *harder* yodels, like the Kuku-Jodler. I told him that I used 'Audacity' to modify the sound files, that I sing along with for practice. I slow them down, so that I can get them figured out. I also transpose the pitch to match my voice range.
Kerry is a really nice guy! He said I'm doing a good job at yodeling. We'll stay in touch, I hope.
04/02/2009
I enjoy all kinds of *physical* experiences; I like to see, touch, smell, taste and feel stuff - especially old stuff. When I mentioned that to my colleagues, two volunteered to show me some of the cool stuff on campus.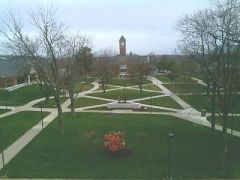 Yesterday I got a tour of Seitz's basement. Today a trip onto the roof of Zollner was *needed*, to find a good place to set up the new campus web-cam.
Indiana Tech moved to its present location around the time when I was born. Most of the buildings you see on campus today were built afterwards, but Seitz Center, from the 1800s, is still pretty much in the original shape. It has a really scary basement!