10/17/2009
It's been over 22 years since I last owned a motorcycle. I enjoyed riding very much, but my life just didn't have any room for a bike in it for a long time. Now things have changed to my favor, and I'll be riding again. Last week we drove to Hayden Honda in Kendallville and bought a blue-silver Honda Shadow Aero.
Today we picked her up.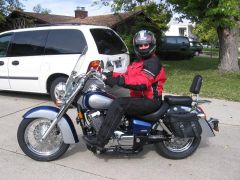 I was a little nervous at first, because it's been a long time since I last rode. After the first few miles it felt like I'd been riding every day. The weather was favorable too. No rain for the first time in a week, and around 45°F to go with it.
09/09/2009
I watched the 200th episode of my favorite TV show *Alarm für Cobra 11* on RTL's website today. The title was *Das Ende der Welt* (the end of the world).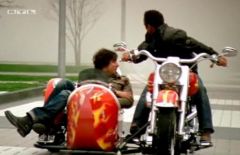 It was a double-length, action packed, suspenseful story about Semir and Ben saving the world (and themselves) from a deadly virus.
The episode aired last Thursday, and today was the last day that it was available to watch for free on the web.
Tomorrow the next episode will be showing on TV, and then I would have to pay .99 € to watch this one.
I know, I'm cheap.
08/15/2009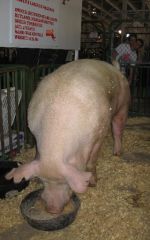 Did I tell you that I think pigs are cute? Well, to be honest, I'm not so sure about this one. He is four years old and weighs 1175 lbs., or 532 kg for the metric people. He is one of the attractions at the Indiana State Fair, where Tom and I spent roughly four hours walking around in 90°F heat today. Good thing that there are many airconditioned buildings with indoor exhibits to enjoy, otherwise I would have passed out.
We combined a shopping trip to COSTCO in Indianapolis with a visit to the fairgrounds. While the focus is clearly on agriculture, you can see lots of other very interesting inventions. Would you like shoes with big springs under the heels, or an extremely comfortable hanging chair? We signed up to win a Harley, and we calculated our 'health footprints'. I held a two inches long Brazilian cockroach on my hand. Other people where petting centipedes, five inches long, as thick as my thumb.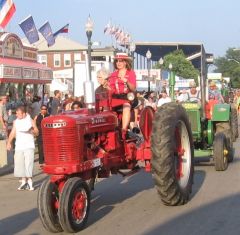 07/26/2009
On we go with more summer festival fun. This time at the Allen County fair grounds, where you can enjoy some good old healthy 4-H activities. They had lots of animals on display. Cows, horses, goats, lamas, chicken, turkeys, rabbits, and (my favorite) pigs. I find piglets absolutely adorable. If we didn't have a dog already, I would seriously consider a pig.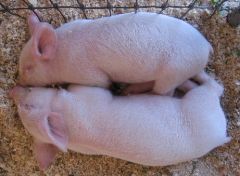 07/04/2009
Independence Day means a 3-day-weekend for me. Enough time for a trip to Portage, the Indiana Dunes State Park, and Central Beach at Lake Michigan.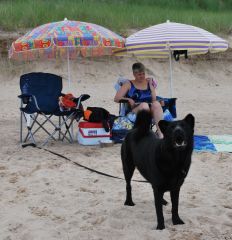 Armani enjoys riding in the car, digging holes in the sand, and making Tom run up and down the beach. This time he even went in the water to swim with me a little bit.
The weather was perfect, overcast, light wind blowing, drizzling rain later in the afternoon.