08/23/2007
Exactly one month from today, on September 23rd 2007, Munich's Mayor (still Christian Ude) will tap into the first beer keg. The world will be watching as he uses a wooden hammer to open a 200-liter barrel. The barrel, made out of aged oak wood, sealed on the inside with black pitch, is ready and was presented to the public today.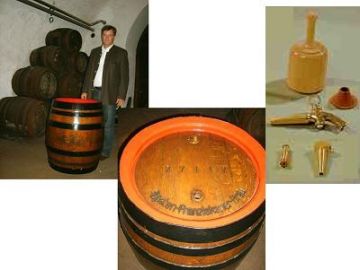 All eyes will be on Ude, standing there in the *Schottenhamel* beer tent. Bets will be placed on how many times he will have to hit the tap with his sledge, before we hear the magic words *O'zapft is !*. The record is at two hits, but in 1950 somebody hat to whack the thing 19 times.
The Prime Minister will be served the first liter of beer, and after that the Munich Oktoberfest is officially started.
06/19/2007
Penny found out about an estate auction somewhere in the south-western part of town. Tom and I went along, mainly because of the pool table they had. I have never been at an auction. It took me a while to understand how that works.
The auctioneer starts shouting out a relatively high price for the item, then, if he doesn't get any interest from the crowd, he drops the price really fast. Until somebody makes a signal. Scratching your ear is enough - so watch what you're doing, or you could be stuck with something you don't want. If you want to bid, you'll have to pay very close attention. They talk so fast, it's almost impossible to follow.
When they finally got to the pool table, I was so excited, I could hardly contain myself. It's a beautiful 7 foot custom made table. With real Italian slate, an inch thick, and dark oak wood from Germany. It was made by a company in St. Louis, Missouri. And it cost $4,000 in 1997.
When the original offer of $1,000 had come down to $500 I started bidding. There was one other person interested in the table, and I thought we'd never get it - since we had agreed on our maximum bid to be no more than $700. But we got lucky! The pool table is ours, including all the accessories, for only $600. We'll have it delivered and set up in the basement on Thursday.
06/09/2007
It's Germanfest in Fort Wayne again, and this time I even made it to the Wiener Dog Race.
The weather was perfect - sunny, dry, not too hot. Headwaters Park was crowded with hundreds of cute little dachshunds.
96 of them participated in the races, and the winner was Noodle
05/28/2007
A 4-day weekend due to the holiday was our chance to grab Armani and head out North. The Comfort Inn in Portage, close to the Indiana Dunes State Park, is a pet-friendly hotel. I drove us there, Tom sat in the back with Armani. The dog doesn't like to sit by himself in the car, probably due to that accident he was involved in, when he was little.
Our day on the beach was absolutely gorgeous! Perfect sunshine, but not too hot. The sand was still wet from heavy rainfall all thru the previous night. Lake Michigan was pretty cold, most people didn't dare to swim. And those who did, felt an urge to scream and shout - not me though, I enjoy cold water.
Armani had fun digging holes and rolling in the sand. After some hesitation he even swam a little bit. We had to trick him into doing that, by throwing a stick in the water, just barely beyond his reach.
Later in the afternoon we went for a walk along Cowles Bog trail, and we had a very filling supper at a Mexican restaurant. Tom didn't trust the beer garden at the Junkyard Bar & Grill - I thought the joint looked a bit wild, but would have been OK for something different to try.
05/23/2007
Not that it is a vital neccessity, but sometimes I really enjoy having good, healthy, natural bread. The kind that you can't really find in the USA. With a hearty, crispy crust, juicy but not too soft body, and no weird ingredients, like corn starch or soy protein.
So, after I successfully mastered the art of making real German pretzels - where the hardest part was finding a supplier for sodium hydroxide, I decided to learn how to make real sourdough. From nothing but rye flour and water. After doing some extensive research on the internet, I started my project four days ago.
To grow sourdough, you have to be able to provide an environment favourable to the right kind of wild yeast. If it's too cold, you'll just produce some kind of rotten, acid flour-water mix. If it's too hot, you'll kill whatever yeast might have been growing, before you even start to bake bread. I used a food warmer to keep my sourdough culture at around 90°F. Every 12 hours you stir it vigorously, and every 24 hours you add another cup of rye flower and luke warm water.
Last night my sourdough looked and smelled just right for the next step.
I had picked one of the simpler recipes for rye bread from the dozens that I found on the internet. 70% rye flour, 30% wheat flour, some chopped up sunflower seeds, my sourdough and salt. Mix, kneed, let sit for 2 hours to rise and double in size - bake for an hour, then let it cool down over night.
Today I'm enjoying my first home made rye sourdough bread for lunch. It turned out totally perfect, tastes like nothing you can buy in any store here.