01/20/2008
Last night Tom had to work third shift, and my friend's husband had some business to tend to in Indianapolis. So she invited me to go to the Embassy Theater with her to enjoy an evening of Mozart's music, played by the Fort Wayne Philharmonic.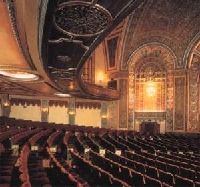 The historic (movie)theater had been badly worn, and was in imminent danger of being torn down a few years ago. I'm glad they didn't do that! Instead it was remodeled in the original style, leaving everything as close as possible to what it once looked like.
After the concert my friend and I went for a late night snack, drink and chat to Henry's - an old family owned and managed bar and restaurant on Main Street.
01/06/2008
Indiana is a *one plate* State. That means you may decorate the front of your car with anything you like. I like to show off, have something *rare*. So I ordered a custom made authentic German license plate and frame of ebay, and a set of very real looking replica seals to go with it.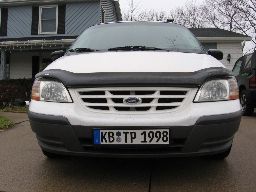 It's featuring Tom's and my initials and the year we first met online. I chose December of '08 for the month our *inspection* is due, which is displayed on the top seal.
Looks awesome!
12/31/2007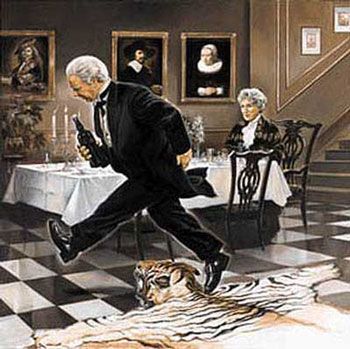 Don't ask me why....... but since 1972 on New Year's Eve you will find all of Germany (or at least the vast majority of people) watching a ten minute sketch on TV.
It is the work of the late Freddie Frinton, a British comedian who died in 1968. The funny little piece was first shown on TV in 1963 as a *filler* between shows. Obviously ads weren't that prevalent between (or even right in the middle of) TV shows back then.
A year just wouldn't end properly without watching *Dinner for One* and, thanks to the internet, no matter where I am in the world, I can still do that.
08/23/2007
Exactly one month from today, on September 23rd 2007, Munich's Mayor (still Christian Ude) will tap into the first beer keg. The world will be watching as he uses a wooden hammer to open a 200-liter barrel. The barrel, made out of aged oak wood, sealed on the inside with black pitch, is ready and was presented to the public today.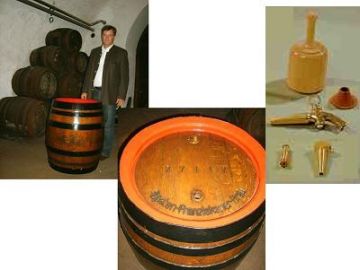 All eyes will be on Ude, standing there in the *Schottenhamel* beer tent. Bets will be placed on how many times he will have to hit the tap with his sledge, before we hear the magic words *O'zapft is !*. The record is at two hits, but in 1950 somebody hat to whack the thing 19 times.
The Prime Minister will be served the first liter of beer, and after that the Munich Oktoberfest is officially started.
06/19/2007
Penny found out about an estate auction somewhere in the south-western part of town. Tom and I went along, mainly because of the pool table they had. I have never been at an auction. It took me a while to understand how that works.
The auctioneer starts shouting out a relatively high price for the item, then, if he doesn't get any interest from the crowd, he drops the price really fast. Until somebody makes a signal. Scratching your ear is enough - so watch what you're doing, or you could be stuck with something you don't want. If you want to bid, you'll have to pay very close attention. They talk so fast, it's almost impossible to follow.
When they finally got to the pool table, I was so excited, I could hardly contain myself. It's a beautiful 7 foot custom made table. With real Italian slate, an inch thick, and dark oak wood from Germany. It was made by a company in St. Louis, Missouri. And it cost $4,000 in 1997.
When the original offer of $1,000 had come down to $500 I started bidding. There was one other person interested in the table, and I thought we'd never get it - since we had agreed on our maximum bid to be no more than $700. But we got lucky! The pool table is ours, including all the accessories, for only $600. We'll have it delivered and set up in the basement on Thursday.