03/12/2008
I've been working at Indiana Tech for over a year now - long enough that you would think I should have seen this before. But I haven't. Today a colleague entered our office saying *Batman is back*. When I asked *who is Batman?*, he took me out into the hallway.
And there he was - you can only see Batman on a sunny day, in spring, for a few hours in the afternoon. That is when the sunlight and the cardboard display in the window paint Batman's shadow onto the floor of our hallway.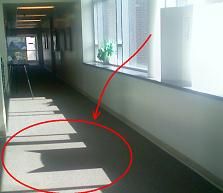 01/25/2008
On my way to work in the mornings I usually listen to the *Bob & Tom show* on 92.3 'The Fort', Fort Wayne's self-proclaimed *number 1 classic rock station*. One of their frequent guests on the show is Heywood Banks, a local comedian, whom I saw on stage at the Snickerz Comedy Club once.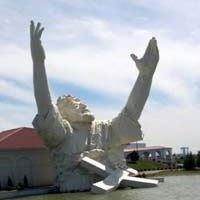 Today they played one of his songs, which is the kind that you can easily sing along with, and then keep spinning it around in your head for the rest of the day. It's called *big butter Jesus* and was inspired by a statue in Southern Ohio.
01/20/2008
Last night Tom had to work third shift, and my friend's husband had some business to tend to in Indianapolis. So she invited me to go to the Embassy Theater with her to enjoy an evening of Mozart's music, played by the Fort Wayne Philharmonic.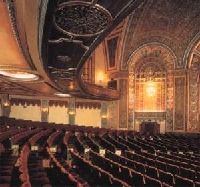 The historic (movie)theater had been badly worn, and was in imminent danger of being torn down a few years ago. I'm glad they didn't do that! Instead it was remodeled in the original style, leaving everything as close as possible to what it once looked like.
After the concert my friend and I went for a late night snack, drink and chat to Henry's - an old family owned and managed bar and restaurant on Main Street.
01/06/2008
Indiana is a *one plate* State. That means you may decorate the front of your car with anything you like. I like to show off, have something *rare*. So I ordered a custom made authentic German license plate and frame of ebay, and a set of very real looking replica seals to go with it.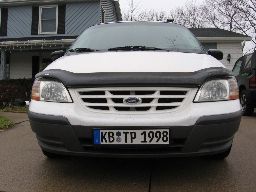 It's featuring Tom's and my initials and the year we first met online. I chose December of '08 for the month our *inspection* is due, which is displayed on the top seal.
Looks awesome!
12/31/2007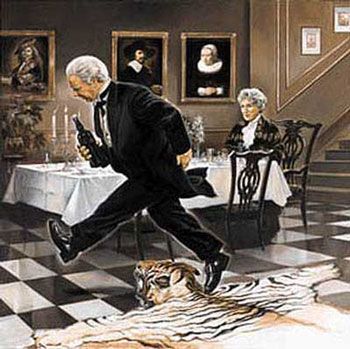 Don't ask me why....... but since 1972 on New Year's Eve you will find all of Germany (or at least the vast majority of people) watching a ten minute sketch on TV.
It is the work of the late Freddie Frinton, a British comedian who died in 1968. The funny little piece was first shown on TV in 1963 as a *filler* between shows. Obviously ads weren't that prevalent between (or even right in the middle of) TV shows back then.
A year just wouldn't end properly without watching *Dinner for One* and, thanks to the internet, no matter where I am in the world, I can still do that.