06/17/2008
Listening to the band at Germanfest this year I decided to teach myself how to yodel. I found a CD on Amazon.com, plus a website with ten free lessons, and two short instructional videos on YouTube. I've been working on it in the car, on my way to and from work for about a week now. The hardest part is finding your voice break. Once you master that, the rest is just a matter of practice.
05/26/2008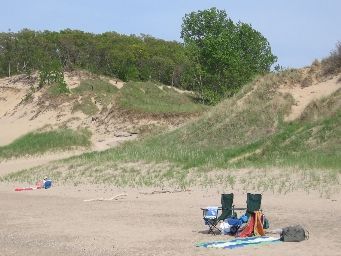 I had a four-day-weekend, thanks to Indiana Tech. Tom's work schedule allowed for two days off. So we loaded up the van with beach gear and took Armani to the pet-friendly Comfort Inn in Portage.
Perfect sunshine, few people, very cold Lake Michigan - Central Beach is one of my favorite places. There is a small bar & grill right across the street, in walking distance from the hotel, where they serve delicious buffalo wings and sandwiches.
Michigan City is not too far off our way back home, so we stopped at the Lighthouse Place outlet mall. Over 120 factory outlet stores, set up in a nice outdoor mall around an old lighthouse. Some pretty decent prices there too.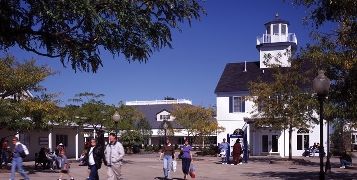 05/23/2008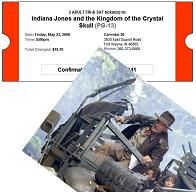 Who wants to see a 65 year old man doing the fourth sequel to an adventure movie series, the first part of which was made in 1981, over a quarter of a century ago?
Well, I do! And there were thousands of people doing the same thing. The latest Indiana Jones movie officially came to the movie theaters yesterday. I reserved tickets online and took Tom out to the Carmike today.
Kingdom of the Crystal Skull may not be the best of the four Indiana Jones movies, but I still had lots of fun watching it. What I wonder now is - will Harrison Ford wait another twenty years before he stars in Indiana Jones 5 ? Even if he does, I'll go watch that too - if I'm still alive then.
04/27/2008
03/23/2008
My daughter spent twelve days in Fort Wayne, visiting for the first time since her move back to Munich. The weather wasn't really cooperating, but we still followed our family tradition and went for a walk in the woods on Easter Sunday.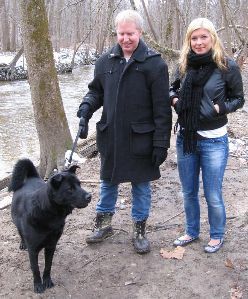 The Bicentennial Woods nature preserve, where we like to go for walks, must have been partially flooded. The place was very muddy, one of the bridges over the creek was broken and unusable.
Tom was the only one equipped with appropriate footwear for this kind of trail - so we had to make it a short walk.