05/23/2008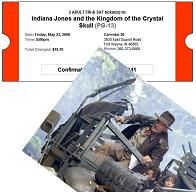 Who wants to see a 65 year old man doing the fourth sequel to an adventure movie series, the first part of which was made in 1981, over a quarter of a century ago?
Well, I do! And there were thousands of people doing the same thing. The latest Indiana Jones movie officially came to the movie theaters yesterday. I reserved tickets online and took Tom out to the Carmike today.
Kingdom of the Crystal Skull may not be the best of the four Indiana Jones movies, but I still had lots of fun watching it. What I wonder now is - will Harrison Ford wait another twenty years before he stars in Indiana Jones 5 ? Even if he does, I'll go watch that too - if I'm still alive then.
04/27/2008
03/23/2008
My daughter spent twelve days in Fort Wayne, visiting for the first time since her move back to Munich. The weather wasn't really cooperating, but we still followed our family tradition and went for a walk in the woods on Easter Sunday.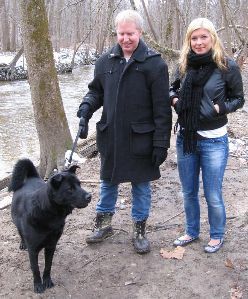 The Bicentennial Woods nature preserve, where we like to go for walks, must have been partially flooded. The place was very muddy, one of the bridges over the creek was broken and unusable.
Tom was the only one equipped with appropriate footwear for this kind of trail - so we had to make it a short walk.
03/12/2008
I've been working at Indiana Tech for over a year now - long enough that you would think I should have seen this before. But I haven't. Today a colleague entered our office saying *Batman is back*. When I asked *who is Batman?*, he took me out into the hallway.
And there he was - you can only see Batman on a sunny day, in spring, for a few hours in the afternoon. That is when the sunlight and the cardboard display in the window paint Batman's shadow onto the floor of our hallway.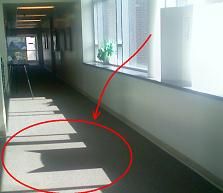 01/25/2008
On my way to work in the mornings I usually listen to the *Bob & Tom show* on 92.3 'The Fort', Fort Wayne's self-proclaimed *number 1 classic rock station*. One of their frequent guests on the show is Heywood Banks, a local comedian, whom I saw on stage at the Snickerz Comedy Club once.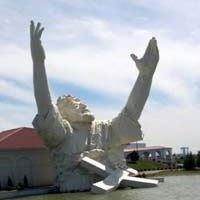 Today they played one of his songs, which is the kind that you can easily sing along with, and then keep spinning it around in your head for the rest of the day. It's called *big butter Jesus* and was inspired by a statue in Southern Ohio.