11/02/2007
Immigrants from Turkey brought one very delicious addition to Germany's fast food menu: Döner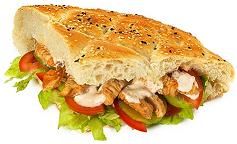 A toasted pita bread, sliced open to form a pocket, then filled with shredded lettuce, turkey or veal scraped off a big vertical rotating skewer, tomato slices, onion rings and a spicy yoghurt sauce. I must admit, I really missed that.
Turkish food hasn't made it to the Midwest yet, but Greek food is available. Now, you can't tell the Greeks (or the Turkish) that you think their food is similar, but you can still enjoy a gyros sandwich as a substitute for Döner.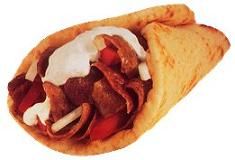 The bread is thinner, so it can't be cut, but has to be rolled around the contents. And for some reason they skipped the lettuce. The *King Gyros* restaurant, where I got my gyros sandwich for lunch today, is operated by Hispanics, like a lot of food places in Fort Wayne.
Life is good!
08/25/2007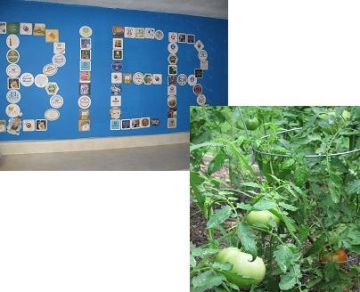 On some weekends, when we don't have time for big adventures, it's always fun to take on a smaller project at home. Like decorate a wall in the basement with Tom's extensive collection of coasters. Or work in the garden, watch our tomatoes grow.
I enjoy having a spacious home with lots of room for my creative ideas. I like to build and make stuff, instead of just buying and then consuming things.
06/08/2006
Following the tradition here Tom and I got ourselves some small extra jobs: Tom works part time as a security technician. And I work a few extra hours from home as a virtual call-center agent, handling inbound product order calls for various companies.
Extra cash, extra security, extra options - but less spare time. Seems like you can never have it all your way. I think I might enjoy the call-center from home more than my daily commute, and if/when that happens, I'll switch priorities. So far I'm just testing the waters.
05/25/2006
Our newest family member is a 3 month old black labrador-chow mix. We went to the animal shelter and adopted him. Alejandra picked the name (her affinity to fashion clearly visible).
The first thing Armani did was pee on the carpet in the family room, Alejandra's room, under the dining room table, and in Mollie's room.
Good thing Tom had bought a can of special pet stain removal spray for that purpose. We'll have to work on that.
05/07/2006
We had obviously picked the perfect day for our house warming party! Sunshine and very pleasant temperatures helped make this an enjoyable event for everybody.
We had potatoe salad, pasta salad, veggies with dip and fruit salad for sides. Hamburgers, hot dogs and beef brats on the grill. I had prepared a dozen German Pretzels (need to practice and fine-tune the recipe), which everybody liked. Tom's chili was very much appreciated, as always.
Five kids on the trampolin at the same time proved a challenge for the smaller ones. But everybody liked it so much, that Penny couldn't resist and jumped too - carrying James and Tiana.