07/23/2008

Tom needed a minor surgical procedure done, which he had been putting off for several years. The specialist closest to us for that procedure is located in Peoria, IL. So we took US-24 and went on a roadtrip thru the Midwest.
-
You drive thru small towns, where time seems to be stuck at a slower pace. Along either side of the road, for as far as you can see, there is corn or soybeans, and an occasional herd of cows, or maybe a lonely little patch of wheat.
-
I noticed a significant difference in height of the corn between Indiana and Illinois. Whatever they're doing in Illinois yields about 2 feet higher corn. Or did they just plant their seeds earlier?
06/13/2008
Drinking tap water is not a good idea. Even though you won't croak immediately - as the chemicals from tap water accumulate in your body, you might have all kinds of health issues. We already filter our drinking water, with filters in the refrigerator and on the bathroom faucet.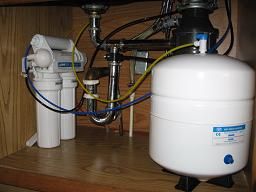 Today Tom installed a reverse osmosis 4-stage filtering system under the kitchen sink. Now our drinking water is better than most bottled water you can buy in stores.
05/11/2008
Tom's family is a lot bigger than mine, with six mothers (two of them grand-mothers and one great-grand-mother) living in and around Fort Wayne. Becky has the biggest house, so she hosted the family's Mother's Day brunch again.
We enjoyed delicious food, exchanged presents and flowers - and planned our next family get-together for Father's Day. My contribution to the buffet was homemade German bread and Bavarian cheese spread.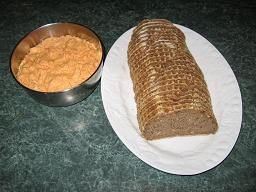 02/06/2008
We've had heavy rain, snowfall and winter storms these past few days. Our back yard looks more like a pond and on my way home today I had to take a detour.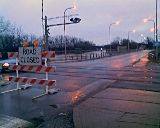 Anthony Boulevard was closed right before the bridge over the Maumee river because of dangerously high water levels. People living on Edgewater Road needed volunteers to help with sand-bagging.
A few more roads along the St.Joseph and St.Mary's rivers were also closed for the same reason. Good thing I know my way around town by now. I had no problem coming up with an alternative route home.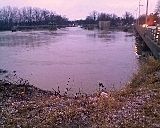 01/03/2008
....that I went to have my teeth checked and cleaned for the first time in over two years. I was prepared for the worst, but got away with *only* 150 minutes of scaling and root planing. Two old fillings will have to be replaced in May this year, which is going to be nothing compared to today's marathon session at the periodontist's office.
When my new dentist first examined the full x-rays she had taken, and probed into the deep pockets in my gums, she told me horror stories about bone loss and root decay as the inevitable consequences of my *severe* periodontal disease. Well, this was the first time she saw my teeth - so it's understandable that she was shocked.
The specialist, she had me see, found that it wasn't all that bad - at least my condition is stable (I knew that) and with good oral hygiene after today's procedure, I should be OK for quite a few years.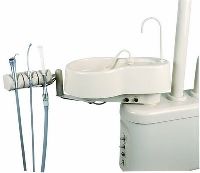 The two dental offices, I have seen in the USA so far, look very similar to the ones I'm used to from Germany. With one main significant difference: there is no cuspidor. My periodontist explained that OSHA had outlawed those in 1985 because they pose a high infection risk. Makes me wonder, how I survived all those years in Germany.
The other big difference is insurance. Coming from the government controlled public health care system in Germany to the *fend for yourself* system in the USA was an interesting experience. The attention you receive here from health care providers is excellent, but you also pay quite well for it - even with insurance.