04/19/2013
2013 Employee Awards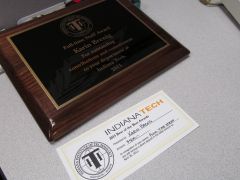 I consider myself lucky to have a job, even more lucky to have a job that is fun, and extremely lucky to work at an institution where hard work is being officially recognized and rewarded.
Yes, we do get paid - so maybe we shouldn't even expect something else - but it sure feels nice to get more than just the paycheck.
At our annual Employee Awards ceremony over a dozen individuals receive special recognition, documented with a nice plaque and sweetened up with a tax-free bonus check, for outstanding contributions to their teams' and the institution's success.
This year I was among those honored.