10/31/2012
Freestyle Hausfrau ;)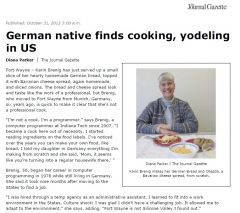 Today's Journal Gazette featured a half page article about me (!) in Diana Parker's "Cook's Corner". The article was based on an interview that I had given on Monday. Samples of my German bread and Obazda had been consumed and recipes compiled.
I found this very flattering, especially since I am absolutely not your typical housewife/cook. A lack of healthy, tasty food choices within local reach forced me to discover the hidden "chef" inside.
http://www.journalgazette.net/article/20121031/FEAT0107/3...