05/12/2012
The Hedge Apple Experiment (revisited)
Some of you may remember the hedge apple I put in a pot last November.
http://karin-sadventures.blogspirit.com/archive/2011/11/1...
By now there is obvious visible progress! Several sprouts are coming out of the dirt over the baseball-sized, odd looking fruit that I buried last year and watered all winter long.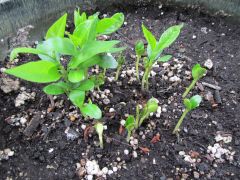 Once they get bigger I will plant the individual seedlings in separate small pots and grow them further. Eventually I hope to be able to start an osage orange hedge from these.