03/16/2012
Creativity at Work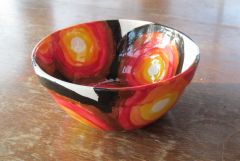 One of the reasons why I love my job is because it's not all about the job.
Our Creative Services Department organizes "surprise parties" about once a month during regular business hours.
If you are lucky, you may receive an invitation to participate in some fun, relaxing, entertaining activity other than your daily job. Last month I was invited to a "Pottery Painting Party". This awesome ice-cream bowl is my own artwork!